During her senior year of high school in 2017, Jenna Stevens hadn't planned to continue her education after graduation – until the sudden realization struck her that she might need a postsecondary degree to succeed. As an average student, Jenna wasn't even sure she could get into a college or university; but when she discovered Pennsylvania Highlands Community College, Jenna found where she belonged.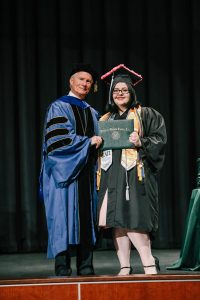 "Knowing that Pennsylvania is one of the most expensive states for higher education and with concerns about the ballooning national student debt, affordability was very important to me," recounted Jenna. "Penn Highlands offered so much more than a reasonably priced education – it offered me the opportunity to excel, to lead."
Jenna Stevens graduated with honors from Penn Highlands as part of the college's largest graduating class during the Commencement Ceremony on May 11th. As a nominee for distinguished graduate, Jenna is involved in more than 30 volunteer or campus-related activities that have allowed her to develop the leadership skills she believes will help her succeed in life.
"I am incredibly grateful for the opportunities community college has afforded me," she said. "I wish more people would consider starting their higher education journey at a community college. I was given so many opportunities and didn't have to sacrifice quality for affordability."
Research suggests that Pennsylvania college students could save up to $20,000 on the cost of a bachelor's degree by enrolling at a community college for the first two years.
With aspirations of being a lawyer or an 'outside-of-the-box' teacher, Jenna plans to continue her education this fall at the University of Pittsburgh at Johnstown. She is a first generation college student on her mother's side of the family and she says she wants to be a person on which her family can rely.
"I grew up watching my mom's family struggle in customer service jobs. I didn't want that to be me," Jenna explained. "Part of the reason I'd like to be a teacher is to improve on the 'book, lesson, test' educational structure imposed on today's students. I want to move away from standardization and memorization, and teach principles and ideas to a generation of students who can change the world."