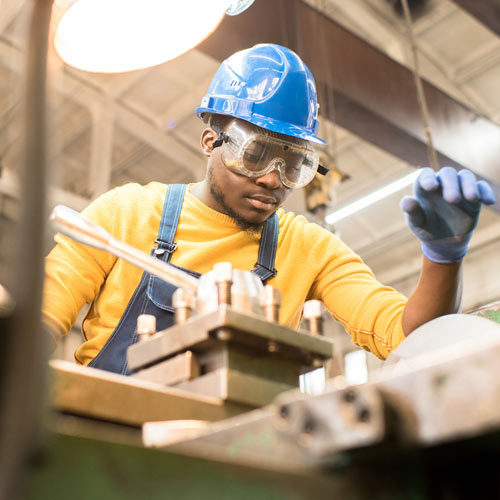 Pennsylvania's community colleges offer an array of workforce development and career training programs.
The colleges partner with nearly 1,500 area businesses to assess their needs and ensure that the curriculum being taught on campus transfers seamlessly to the workplace so that employees can begin work on day one. The colleges also offer services to individuals looking to upgrade their skills through retraining.
The workforce development options the community colleges offer will:
Give Pennsylvania workers the knowledge and skills they need to succeed in the workforce.
Strengthen Pennsylvania's economy and workforce as a whole.
Strengthen Pennsylvania's local communities and local economies by providing citizens the tools they need to enter or reenter the workforce.
Use the most current technologies and training techniques to assist those who are unemployed find work.
WEDnetPA
The Workforce and Economic Development Network of Pennsylvania (WEDnetPA) was created to make companies across the Commonwealth of Pennsylvania more competitive by updating and improving the skills of their employees to meet specific company needs.
WEDnetPA is an alliance of a variety of educational providers across Pennsylvania — including Pennsylvania's 14 community colleges, the 14 state system universities, and other educational providers — that acts as the delivery mechanism for the Commonwealth's Guaranteed Free Training (GFT) program. Each provider/WEDnetPA partner serves as the point of contact for businesses accessing GFT funds.
Through the GFT Program, qualified in-state businesses and out-of-state companies relocating to the economic-friendly business climate of Pennsylvania can access funding for a wide range of training (categorized as either Basic Skills Training or Information Technology Training).
The Commonwealth Workforce Development System (CWDS) provides access to Pennsylvania workforce development services provided by the Departments of Labor & Industry and Public Welfare.
Who can use CWDS?
Participants or job seekers and other individuals seeking services. They can create résumés and match their skills, requirements and backgrounds with job openings.
Employers can use CWDS to find qualified job applicants.
Providers can use CWDS to receive referrals of those seeking the services, programs or training they provide.
Agency Staff use CWDS to track service delivery. This shared system streamlines service-provision and provides a comprehensive view of services provided to any individual.