During a digital signing and news conference today, 14 Pennsylvania community college presidents announced a new partnership and articulation agreement with Southern New Hampshire University (SNHU).
Under the agreement, students from all 14 Pennsylvania community colleges will be able to transfer up to 90 credits to SNHU and complete their bachelor's degree online with a 10 percent tuition reduction.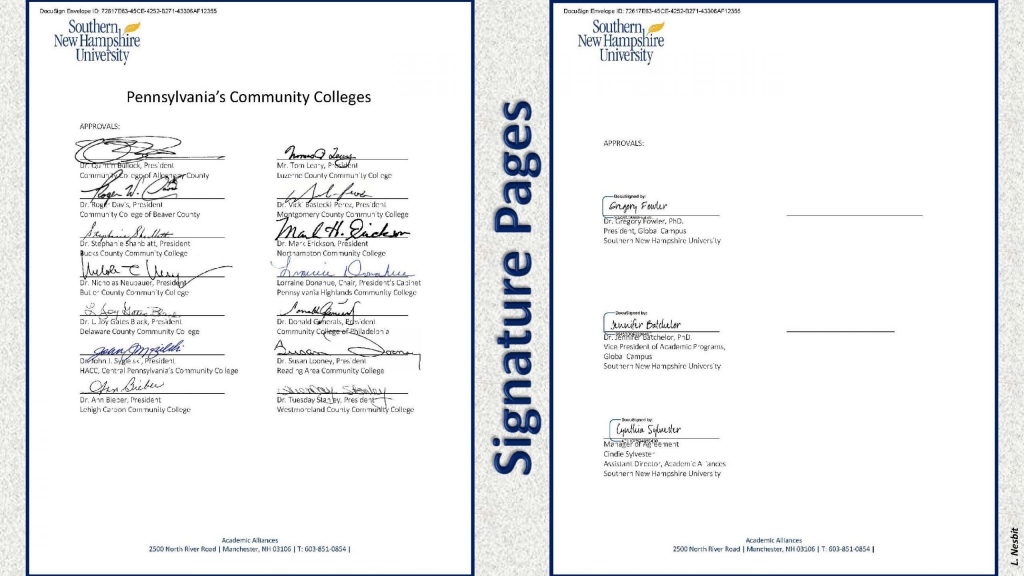 "Community colleges work hard to provide students with quality education at an affordable price, which is why we're so pleased to announce our partnership with Southern New Hampshire University," said John J. "Ski" Sygielski, MBA, Ed.D., President and CEO of HACC, Central Pennsylvania's Community College. "This articulation agreement will allow community college students in Pennsylvania to seamlessly transfer up to 90 credits to SNHU and offer them a 10 percent tuition reduction, making postsecondary distance education more affordable for Pennsylvania community college students."
Of the 90 credits that may be transferred toward an online bachelor's degree with SNHU, applicable military training is considered. The agreement also applies to employees and immediate family members of employees from all Pennsylvania community colleges. The 14 community college presidents hope that the agreement will help Pennsylvania achieve its attainment goal of 60 percent of Pennsylvanians aged 25-64 with a postsecondary degree or industry-recognized credential by 2025.
"At SNHU, we seek to streamline the transfer process for community college graduates across the nation and we are excited to team up with all 14 community colleges in the Commonwealth of Pennsylvania," said Jennifer Batchelor, D.Mgt., Vice President of Academic Programs, Global Campus, Southern New Hampshire University. "Through this new partnership, students will be able to continue on a transformational journey, which will not only impact their lives but also those of their families and communities."
The agreement will provide transfer students the opportunity to pursue an online bachelor's degree at a rate which is more affordable than nearly every other public option in Pennsylvania, depending on the student's program of study and credit load. At the time of today's signing, the partnership between Pennsylvania's community colleges and SNHU represents the only statewide articulation agreement of its kind in the Commonwealth.
SNHU is already a popular transfer destination for Pennsylvania's community college students, with more than 1,500 community college students currently enrolled. Nearly 500 Pennsylvania community college students transferred to SNHU in the 2018 – 2019 academic year, and SNHU awarded 166 Pennsylvania community college graduates a bachelor's degree last year. Currently enrolled transfer students from Pennsylvania community colleges are eligible for the 10 percent tuition reduction. Under the terms of the articulation agreement, new community college transfer applicants will receive a waiver of the standard application fee to SNHU.
"Thousands of articulation agreements are already in place with higher education partners here in Pennsylvania to help students realize their postsecondary achievement goals and we fully expect those longstanding partnerships to continue," said Elizabeth Bolden, President & CEO of the Pennsylvania Commission for Community Colleges. "The academic preparation, success and focus of Pennsylvania's community college students is appealing to many national higher education institutions, as these students are typically motivated and high-performing."
Please follow this link to view a recording of today's virtual signing: http://bit.ly/PACCCSNHUSigning.
The Pennsylvania Commission for Community Colleges is a voluntary membership association for Pennsylvania's community colleges. Members include college presidents, members of the colleges' boards of trustees, and key college administrators. The Commission represents the interests of and advocates for the collective needs of the community colleges to federal and state policymakers. For more information, please visit www.pacommunitycolleges.org.
Southern New Hampshire University (SNHU) is a private, nonprofit institution with an 87-year history of educating traditional-aged students and working adults. Now serving more than 130,000 learners worldwide, SNHU offers over 300 accredited undergraduate, graduate and certificate programs, available online and on its 300-acre campus in Manchester, NH. Recognized as the "Most Innovative" regional university by U.S. News & World Report and one of the fastest-growing universities in the country, SNHU is committed to expanding access to high quality, affordable pathways that meet the needs of each learner. Learn more at www.snhu.edu.