In response to the current shortage of personal protective equipment due to the worldwide COVID-19 pandemic, community colleges across the Commonwealth are supporting Pennsylvania healthcare professionals, many of whom are community college alumni, with the donation of medical supplies. The nursing, allied health and other relevant programs are loaning ventilators, contributing supplies of gloves and lab coats, and using on-site equipment to produce much-needed N95 masks, based on guidelines provided by the U.S. Centers for Disease Control and Prevention.
"As we have watched the spread of the deadly coronavirus, our community colleges have found ways to help the brave heroes battling this disease on the front lines. One of the most meaningful things we can do is give back to our communities by donating our inventory of critical medical supplies to local health systems and first responders," said John J. "Ski" Sygielski, MBA, Ed.D., chair of the Pennsylvania Commission for Community Colleges and president and CEO of HACC, Central Pennsylvania's Community College.
Sygielski said, "Many employees and students at our 14 community colleges work full time or part time in local hospital systems, shelters, food banks and other community organizations. They are nursing assistants, radiology technicians, pharmacy technicians, EMTs, paramedics and volunteers. They are sacrificing their own health to care for patients and others in need throughout Pennsylvania. We proudly recognize and commend these brave, selfless students and employees for their continued dedication to the health and well-being of others during this global pandemic. We truly are all in this together."
The list below details donations made by specific community colleges in Pennsylvania: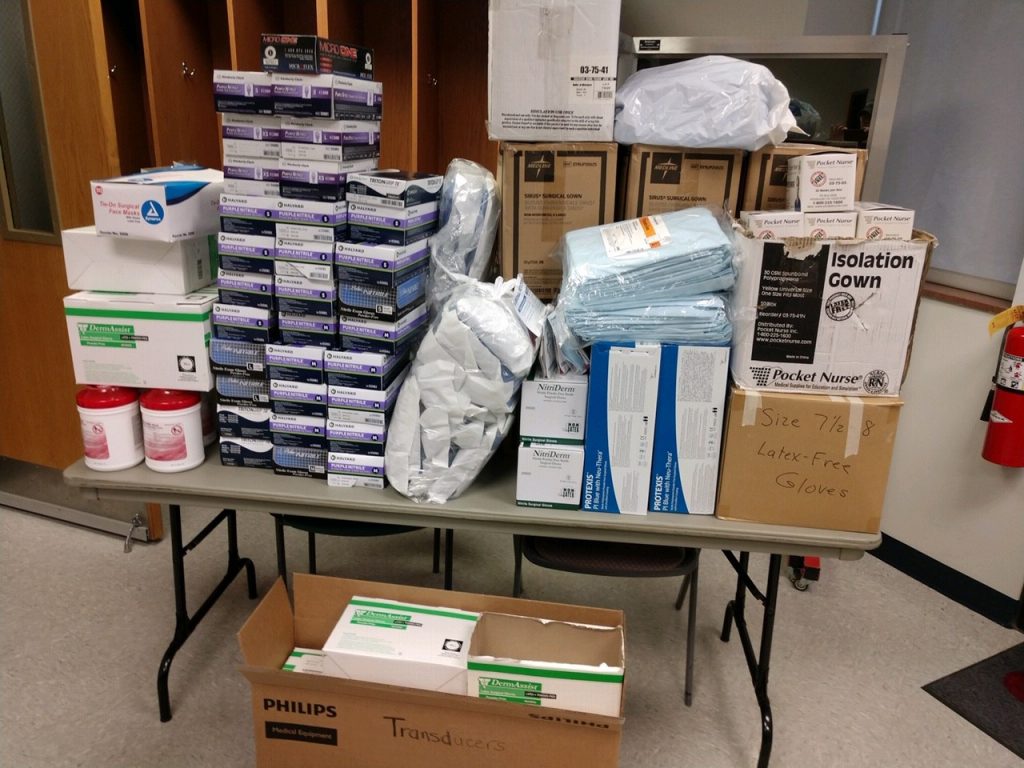 Community College of Allegheny County
The Community College of Allegheny County (CCAC) recently donated personal protective equipment to help those on the front lines in the battle with the COVID-19 pandemic. Dozens of boxes containing hundreds of surgical non-sterile gloves and isolation gowns were collected from the CCAC Nursing and Allied Health departments on all four campuses. The college's Automotive and HVAC programs based at West Hills Center also donated approximately 1,000 pairs of gloves as well as hundreds of masks for distribution to health care workers in need of protective equipment. In addition, CCAC's Public Safety Institute provided 1,400 pairs of sterile exam gloves and one and a half cases of protective, single-use Tyvek suits. The supplies have been transported to Allegheny County Emergency Services for distribution to where they are most needed.
Bucks County Community College
On Friday, March 27, Bucks County Community College's Health Sciences Department donated equipment to two hospitals that are clinical sites for its programs – St. Mary Medical Center in Langhorne, and Aria Torresdale Hospital in Philadelphia – to help during the COVID-19 pandemic. Donations from the Newtown campus included more than 27 boxes of gloves, 20 personal protective equipment (PPE) sets, 40 masks with shields, 20 regular masks and ten N95 masks. A second batch of donations was also collected from our Epstein Campus at Lower Bucks in Bristol.
Delaware County Community College
Delaware County Community College loaned a ventilator to Crozer-Chester Medical Center, and provided Delaware County Emergency Services with disposable gowns, head protections, surgical caps, surgical gloves, examination gloves, sharp containers, biohazard bags and bottles of hand sanitizer. In addition, the college loaned fit-testing equipment (to ensure safe fit for caregiver face masks) to the Glen Mills School, a repurposed, regional Alternative Care Site, set up in preparation for a possible overflow of COVID-19 patients from area hospitals.
HACC, Central Pennsylvania's Community College
HACC employees collected gloves, masks and other personal protective equipment and donated it to UPMC Pinnacle. The college also loaned Geisinger Holy Spirit four ventilators and a non-invasive BiPAP breathing unit. Penn State Health borrowed four ventilators from HACC to meet an anticipated shortage in the region. The donation of medical supplies and personal protective equipment is continuing as health systems and first responders reach out to HACC with requests for these life-saving items.
Lehigh Carbon Community College
The Lehigh Carbon Community College (LCCC) Nursing, Physical Therapist Assistant, Occupational Therapy Assistant and Medical Assisting Programs collectively donated approximately 30 boxes of gloves, three boxes of masks, eye (goggles) protection, exposure gowns, and cleaning supplies to Lehigh Valley Health Network. Hospital and health center employees said they were extremely grateful and thanked LCCC for training current and future healthcare professionals through its programs.
Luzerne County Community College
Luzerne County Community College donated personal protective equipment (PPE) from its health sciences programs from the Mary Gill Carrozza, R.N. School of Nursing and Health Sciences at the Francis S. and Mary Gill Carrozza, R.N. Health Sciences Center to two area hospital systems – Geisinger Health System and Commonwealth Health System. Donations included 65 boxes of Nitriderm Sterile Gloves, two boxes of Perry Synthetic Surgical Gloves, 40 boxes of Nitrile Exam Gloves, 15 sterile gowns, and one box of Fluid Guard 160 face masks. The College also donated one and one half packages of isolation gowns, 20 blood infection control kits, four boxes of simple masks, four boxes of techashield masks, one half box of N95 masks, 12 non-sterile surgical gowns, 30 face shield masks, four boxes of surgical masks, and one IR thermometer to the City of Nanticoke's first responders. The college also donated a Drager XL Ventilator to Wilkes-Barre General Hospital and a Servo I Ventilator and Hamilton C2 Ventilator to Geisinger Health System. Also, a Dräger E2 Dura Ventilator and two Puritan Bennett 840 Ventilators were donated to Commonwealth Health System.
Westmoreland County Community College
Westmoreland County Community College has or plans to donate nitrile gloves, vinyl gloves, hand sanitizer, antibacterial hand soap, masks and goggles to Adelphoi.
As the COVID-19 virus spreads, Pennsylvania community colleges plan to continuously assess ways they can help students, faculty, their local communities, healthcare professionals and the Commonwealth.
"Community colleges will continue to do everything in our power to support healthcare workers, many of whom are our graduates, in these unprecedented times," reiterated Mark Erickson, Ed.D., Vice Chair of the Pennsylvania Commission for Community Colleges and president of Northampton Community College. "They are truly heroes and we're honored to help them with these donations. We cannot thank them enough for putting their lives on the line to combat this deadly virus."