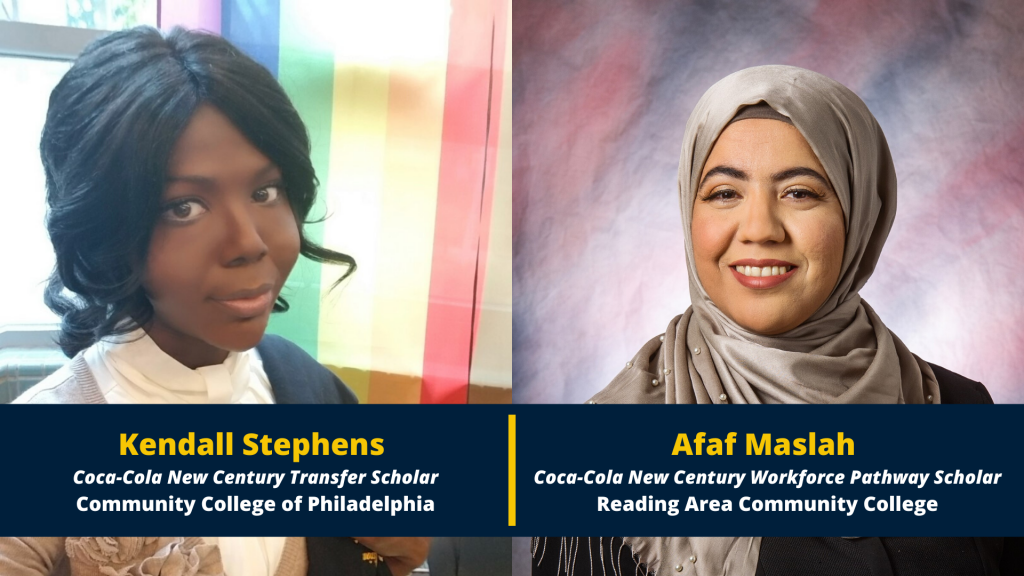 Two-Year Scholarship to State System Schools Awarded to 47 Transfer Scholars
The Pennsylvania Commission for Community Colleges (PACCC) recently announced the 26th Annual All-Pennsylvania Academic Team. The honor recognizes an exceptional group of community college students who have achieved academic excellence and demonstrated a commitment to their colleges and communities.
The 2020 awardees include 47 outstanding community college transfer scholars and eight exceptional workforce pathway scholars from across the Commonwealth. Transfer students must have completed at least 36 credits at a community college and must have a cumulative GPA of 3.5 or higher to be considered for these awards. Workforce students must have a minimum of 12 college-level credit hours at a community college and a cumulative GPA of 3.5 or higher.
"The Commission applauds these outstanding student scholars on their terrific academic achievements," said Elizabeth Bolden, President and CEO of the Pennsylvania Commission for Community Colleges. "By enrolling in high-quality educational or workforce programs at a community college, these students are building a foundation for a successful career while furthering their postsecondary study."
Pennsylvania's community colleges partner with the Pennsylvania State System of Higher Education (PASSHE) universities to provide scholarships to eligible All-PA Transfer Team members at PASSHE institutions, providing two years of tuition at any PASSHE school.
"Our communities and the entire Commonwealth are depending on students like these exceptional scholars to graduate and lead us toward a better future," PASSHE Chancellor Dan Greenstein said. "Workforce needs in Pennsylvania remain high and will likely be even higher in the months and years ahead. These students with their knowledge, skills, diligence, and humanity can help propel Pennsylvania toward a brighter future, and we're grateful they chose the State System to be such a critical part of their journey."
The students receiving the highest All-USA Community College Team application scores in each state are named Coca-Cola New Century Transfer Scholar and Coca-Cola New Century Workforce Pathway Scholar. Community College of Philadelphia student Kendall Stephens is this year's recipient of the transfer honor, which comes with a $2,250 scholarship from the Coca-Cola Educational Foundation. Reading Area Community College student Afaf Maslah is the recipient of this year's workforce honor, which comes with a $1,250 scholarship from the Coca-Cola Educational Foundation.
The Pennsylvania transfer awardees also include two Coca-Cola Gold Scholars who will receive $1,500 scholarships, five Coca-Cola Silver Scholars who will receive $1,250 scholarships and one Coca-Cola Bronze Scholar who will receive a $1,000 scholarship.
The All-USA Community College Academic Team is sponsored by Follett Higher Education Group, a leading provider of college and university bookstore services, with additional support provided by Phi Theta Kappa Honor Society (PTK) and the American Association of Community Colleges (AACC). The New Century Scholars program is sponsored by The Coca-Cola Foundation, Coca-Cola Scholars Foundation, PTK and the AACC.
Students nominated to the national All-USA Community College Academic Team are automatically named to the All-State Community College Academic Teams. The programs share common eligibility criteria, which includes enrollment at a community college, a minimum 3.5 grade point average, completion of a minimum of 36 college-level credits and being on track to receive an associate or bachelor's degree.
The transfer and workforce pathway scholars are typically honored at an annual banquet at the Harrisburg Hilton, which was canceled this year due to the worldwide COVID-19 pandemic.
The following students are members of the All-Pennsylvania Academic Transfer and Workforce Pathway Team:
Community College of Allegheny County
Ashley Butela*
Ashley Evans*
Nicole Haas
Raja (RJ) Krishnaswamy
Megan Partin
Kimberly Reed
Carianne Savage
Courtney Seiler
Sjon Walters*
Craig Wolfley
Qingqing Zhao, Coca-Cola Silver Scholar
Community College of Beaver County
Kayleigh Burke
Alexis Halvin
Bucks County Community College
Alison Babichenko
Logan Saugling
Butler County Community College
Teresa Kuo, Coca-Cola Silver Scholar
Abbey Walker
Delaware County Community College
Brittany Murphy
Frederick Shegog
HACC, Central Pennsylvania's Community College
Christian Arcarese
Amber Henry
Stephanie Jones*
David Lenig
Bangyan Li
Jonathan Morales Gonzalez, Coca-Cola Silver Scholar
Joaquin Nuez Sanchez
Victor Svistunov
Kariann Sweeney
Jessica Wood
Lehigh Carbon Community College
Alexis Hill
Mary Wilhelm, Coca-Cola Bronze Scholar
Luzerne County Community College
Gina Carsia
Dianna Higgins
Montgomery County Community College
Dennis Duett
Matthew Falcone, Coca-Cola Silver Scholar
Blessing Osazuwa
Ashley Tokarski
Northampton Community College
Jason Allesch*
Melissa Benzinger-McGlynn
Kimberly Gallo
Danielle Hanson, Coca-Cola Silver Scholar
Laura Rex, Coca-Cola Gold Scholar
Pennsylvania Highlands Community College
Adriane Hautz
Emily Krisko, Coca-Cola Gold Scholar
Courtney Loughran*
Danika Polka
Evan Orr
Community College of Philadelphia
Andreas Copes
Kendall Stephens, Coca-Cola New Century Transfer Scholar
Reading Area Community College
Valerie Mackey
Afaf Maslah, Coca-Cola New Century Workforce Pathway Scholar*
Emma Wright
Westmoreland County Community College
Zachary Hursh
Tyler Recklein*
Steven Riley
*Denotes Workforce Pathway Scholar