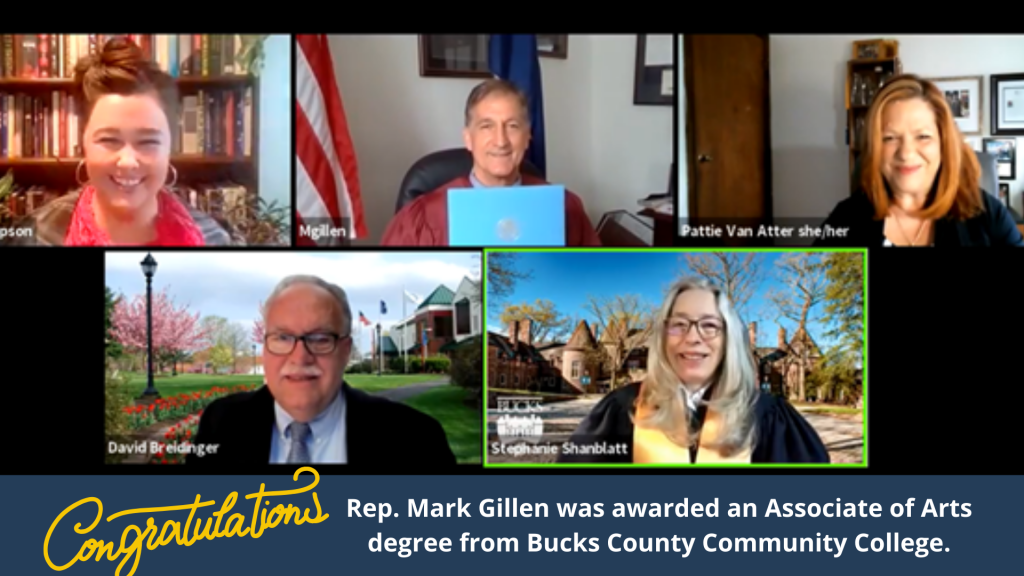 Through Reverse Transfer, Rep. Mark Gillen Receives Associate Degree during Live Virtual Ceremony
To help celebrate Community College Month in April, Rep. Mark Gillen (R-128) was awarded an Associate of Arts degree by Dr. Stephanie Shanblatt, president of Bucks County Community College, and David Breidinger, chair of the Bucks County Community College (Bucks) Board of Trustees, in a virtual graduation ceremony hosted by the Pennsylvania Commission for Community Colleges today.
Rep. Gillen, who attended Bucks prior to transferring to other postsecondary institutions to complete his undergraduate and graduate degrees, used a process called reverse transfer to complete his associate degree at the community college. Reverse transfer is an opportunity available to students who have transferred from a Pennsylvania community college to another higher education institution, to earn their associate degree.
"While students should always try to complete their degree before transferring, we know that – for a variety of reasons – that doesn't always happen," said Dr. Shanblatt during the virtual event. "When students do transfer without a degree, reverse transfer is a process which allows you to receive the degree you worked towards. Earning a reverse transfer degree is simple and it does not cost anything. If you transferred from a community college, you may already have the credits you need to have your associate degree – today, right now."
"Bucks County Community College played an important role in my educational foundation," shared Rep. Gillen. "I am grateful to have achieved an associate degree by utilizing the reverse transfer degree process. I encourage students who transferred from a Pennsylvania community college to explore their eligibility for reverse transfer and join me in receiving the credentials they have earned."
ExcelinEd recently published a policy recommendation on postsecondary credential attainment related to reverse transfer. Citing examples of successful reverse transfer programs in Colorado, Missouri, and Texas, the organization recommended establishing a statewide policy to allow students to earn an associate degree while continuing to work toward a bachelor's degree, and ensuring two-year and four-year college credits can be combined toward the credential.
"Learners often transfer from a two-year to a four-year institution to continue their education prior to earning an associate degree. Unfortunately, not all go on to earn a bachelor's degree, and many end up without a postsecondary credential at all," ExcelinEd wrote. "With a reverse transfer policy, learners can earn an associate degree from the two-year institution when the combination of coursework from both institutions meets the necessary requirements. This policy benefits learners, institutions and states by increasing employability, earnings and attainment and strengthening the overall state workforce."
"Having multiple degrees and credentials benefits graduates, especially as they enter a competitive job market," explained Dr. Shanblatt during today's ceremony. "Reverse transfer programs also have the potential to increase postsecondary attainment rates here in the Commonwealth."
During the virtual graduation, Rep. Gillen was also awarded an honorary membership to Phi Theta Kappa Honor Society (PTK) by Pattie Van Atter, chapter outreach & development coordinator for PTK. The society boasts 3.5 million members worldwide.
"For more than 100 years, our international honor society has helped millions of high-achieving college students reach their full potential," stated Van Atter as she conferred the membership during the event. "PTK gives students the opportunity to develop professional and leadership skills, earn scholarships, explore career paths – and make their worlds a lot bigger. And starting today, you are a member."
Eligible individuals can, but do not need to, have a baccalaureate degree prior to pursuing reverse transfer. Interested parties who previously transferred from a Pennsylvania community college should contact the community college they attended to see if they qualify.
To view today's graduation ceremony, please click here.