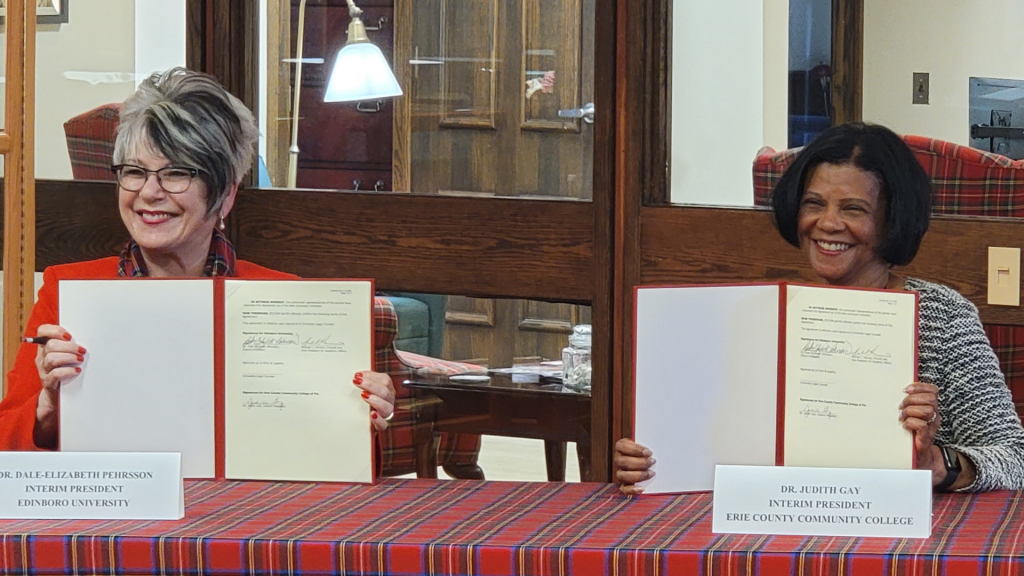 Yesterday, Presidents from Erie County Community College of Pennsylvania (ECCC) and Edinboro University signed an articulation agreement, creating a public-to-public transfer option which will enable ECCC students to continue their education at Edinboro after earning their associate's degree.
The agreement is especially noteworthy because the Pennsylvania State Board of Education approved the application to establish ECCC less than a year ago, a testament to the flexibility and responsiveness of the community college model. Classes are slated to begin at ECCC this fall.
Dr. Judith Gay, interim president of ECCC, and Dr. Dale-Elizabeth Pehrsson, interim president of Edinboro, signed the agreement yesterday afternoon at Edinboro's Reeder Hall among notable guests, including City of Erie Mayor Joseph Schember, Edinboro Mayor Aaron Gast, college trustees, representatives from Sen. Michele Brooks and Rep. Ryan Bizzarro and other supporters.
"Community colleges are agile, built to align with the needs of the communities we serve. This agreement – this partnership – ensures that those who come to Erie County Community College for quality, affordable postsecondary education and training can seamlessly transfer and continue their educational journey at Edinboro," said Dr. Gay, the former vice president for strategic initiatives and chief of staff for the Community College of Philadelphia. "Erie residents needs educational opportunities now. We're fortunate that the community college model allows us to provide them so quickly."
This agreement comes on the heels of another major announcement from ECCC. The college recently entered into a memorandum of understanding with Erie County Public Library, allowing ECCC students use of the library system, as well as libraries at Penn State-Behrend and Edinboro. The partnership saves the college and community millions in taxpayer dollars.
"The beauty of a community college is that it's not top heavy. It leverages existing resources to meet needs instead of unnecessarily reinventing the wheel," explained Elizabeth A. Bolden, president & CEO of the Pennsylvania Commission for Community Colleges. "These partnerships are great examples of how community colleges meet regions where they are and mold their offerings to meet the unique needs of area residents and businesses."
In addition to other supporters, ECCC trustees Ronald DiNicola, Chair, Cheryl Rush Dix, Vice Chair, Mayor Dave Mitchell and Dr. Annette Wagner attended the signing.
Watch Erie County Community College grow here.