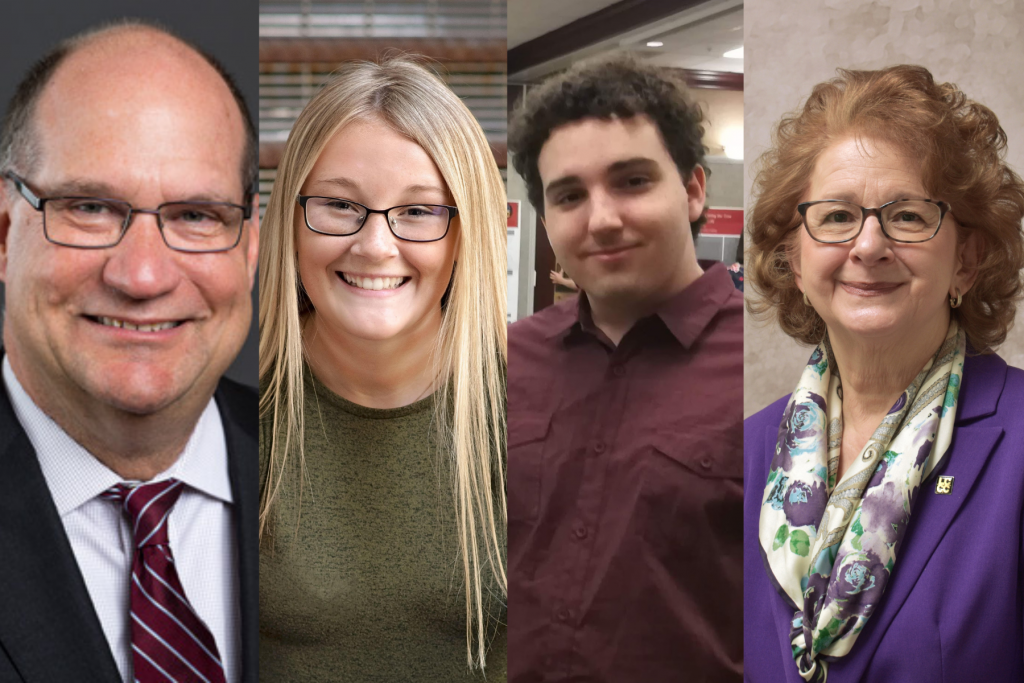 Register Here
"On Course with Community Colleges: Making Transfer Easier for Pennsylvanians"
Friday, October 8, 2021 | 1:30 – 2:00 p.m.
Attendees are invited to submit questions for panelists during the live discussion.
Each year, thousands of Pennsylvanians enroll in a community college with plans to transfer to a four-year college or university to complete their bachelor's degree. While the Pennsylvania State System of Higher Education recently adopted a new transfer policy, community colleges and state system universities have been working together on an institution-to-institution basis for decades to align programs and customize pathways to degree completion.
Join us on Friday, October 8 to hear from two college presidents who are working together for the benefit of students – Dr. Ann Bieber from Lehigh Carbon Community College (LCCC) and Dr. Kenneth S. Hawkinson of Kutztown University (KU) – on the innovative and effective ways they are and have been partnering to streamline the transfer process. Two students, Madison McGlinchey and Danny Melin, will also explain how these institution-to-institution policies make it easier for students to navigate the postsecondary landscape as they pursue a bachelor's degree.
Panelists
Dr. Ann Bieber | President of Lehigh Carbon Community College
Dr. Ann D. Bieber is the fifth president of Lehigh Carbon Community College. She began her career at the college in 1981 and over the years held numerous positions including senior vice president of Administrative Services and dean of Continuing Education. The college currently serves more than 10,000 students in credit programs and 4,000 in noncredit programs each year.
She is committed to enhancing, improving and fostering the college's standing as one of the region's premiere educational institutions. Consequently, the college has been recognized with the Lifetime Achievement Award from the Hispanic Chamber of Commerce for its commitment to educate Hispanic students, named a top 10 community college for instructional technology by the National Center for Digital Education and designated as a National Center of Academic Excellence in Cyber Defense.
LCCC also received recognition as number three in the Top Places to Work in the Lehigh Valley in the large employer category and has received continued recognition as a Military Friendly Institution. Dr. Bieber has worked diligently to expand scholarship opportunities for students, and the college currently disperses over $1 million in student scholarships annually. Dr. Bieber serves the community as a member of the Lehigh Valley Partnership Board, the Lehigh Valley Workforce Investment Board, Lehigh Valley Economic Development Corporation Board, KidsPeace Board, the Manufacturers Resource Center Board, the DaVinci Science Center Board and Futuros Empresarios Foundation Board. Ann lives in Orefield with her husband, Matt, and together they have two children, Natalie, a physician at Lehigh Valley Hospital Network, and Matthew, entrepreneur and venture capital executive.
Dr. Kenneth Hawkinson | President of Kutztown University
A graduate of community college himself, Dr. Kenneth S. Hawkinson began his tenure as the 12th president of Kutztown University on July 1, 2015.
Since his arrival at KU, Hawkinson has established 53 initiatives for the institution focusing on areas such as academic excellence, enrollment management and student success, and expanding educational opportunity and access. Accomplishments since his arrival include the completion of a new strategic plan for the university, a new marketing plan or "branding" of the university, an increase in academic standards and an increase in the academic profile of its students, the establishment of numerous advisory committees to enhance his commitment to shared governance, and a significant increase in fundraising. Hawkinson's community outreach efforts have included the establishment of "Walks with Wynnie," weekly campus walks featuring the Hawkinsons' family dog.
Before coming to KU, Hawkinson was provost and academic vice president at Western Illinois University from 2012-15. Prior to assuming his position as provost, Hawkinson served Western Illinois for four years as associate provost and associate vice president for budget, planning and personnel. Previously, he was associate dean of the College of Fine Arts and Communication and chair of the Department of Communication.
Hawkinson began his academic career at Western Illinois as an assistant professor of communication, and later was promoted to associate, then full professor. He also was an adjunct professor in African American Studies and an instructor in the Honors Program. During his time on the faculty, he served as leader of both the Faculty Senate and the faculty union. He has published numerous articles and dozens of professional papers. His research interests and creative pursuits include storytelling, oral tradition and performance of literature.
Hawkinson earned his bachelor's degree in history from Western Illinois University. He also has a Master of Arts in speech communication from the institution and holds a doctorate in speech communication/performance studies from Southern Illinois University. He was a Fulbright Scholar from 1990-91, during which he taught American studies at the University of Ouagadougou, Burkina Faso, West Africa, and conducted research in African folklore and oral tradition.
Hawkinson was in the U.S. Army for three years. After serving in the Illinois National Guard as a field artillery officer and executive officer for a field artillery battery, he was called to active duty as an infantry officer. He served in Germany as a platoon leader and a weapons platoon leader, and as a public affairs officer. He also served for two years as a volunteer in the Peace Corps in Mali, West Africa.
A native of Carpentersville, Ill., Hawkinson is married to the former Ann Marie Hayes. His son, Jivan Deglise-Favre-Hawkinson, recently completed his doctoral studies in engineering at the University of Michigan.

Madison McGlinchey | Lehigh Carbon Community College Student
Madison is a 2020 graduate of Tamaqua Area Senior High School. Currently, she is a student at Lehigh Carbon Community College with plans to transfer to Kutztown University and pursue a bachelor's degree in early childhood education. She said that, without the strong partnership between the colleges, transferring to her desired college would be a much more difficult and costly process. She said she is thankful to be able to take advantage of a strong transfer partnership like this one, saving both time and money on higher education.
Madison graduated 9th in her senior class and was a member of three honor societies — the National Honor Society, National English Honor Society, and National Spanish Honor Society. She was the recipient of the Little Schuylkill Lions Club Award, the Joanne and Raymond C. Kinder Educational Scholarship, and the Tamaqua Area Education Association Award in 2020. She interns with the SHINE program at Tamaqua Area Elementary School where she is getting firsthand experience within the field of elementary education. Madison has been an avid dancer since the age of three and currently takes classes at Dance with Kim in Lehighton, where she was named one of the "Dancers of the Month" last fall. This year, she also has been named as Assistant Choreographer for the Tamaqua Area Drama Club.
Madison would like to credit her motivation and success to her family and close friends who have been the best support system during her educational journey.

Danny Melin | Kutztown University Student
Danny graduated from Lehigh Carbon Community College in 2020. He transferred to Kutztown University that fall, with a major in professional writing and minors in communication studies and public relations. Ever since he was a teenager, Danny has dreamed of becoming a writer. Through his experiences at LCCC and KU, he's become confident in his ability to do just that.
Danny participated in LCCC's Honors Scholars Program, a program that he says prepared him for the challenges of further pursuing his bachelor's degree. He was a member of Phi Theta Kappa Honors Society and had the opportunity to be one of the commencement speakers for LCCC's 2020 spring graduates.
Currently, Danny is a member of Kutztown's Honors Program and also a member of the National Society of Leadership and Success. He is the President and Editor-in-Chief of Shoofly, Kutztown's student-run literary magazine. Danny hopes to continue to develop his professional skills while earning his bachelor's degree, in addition to turning his love of writing into a post-graduation career.