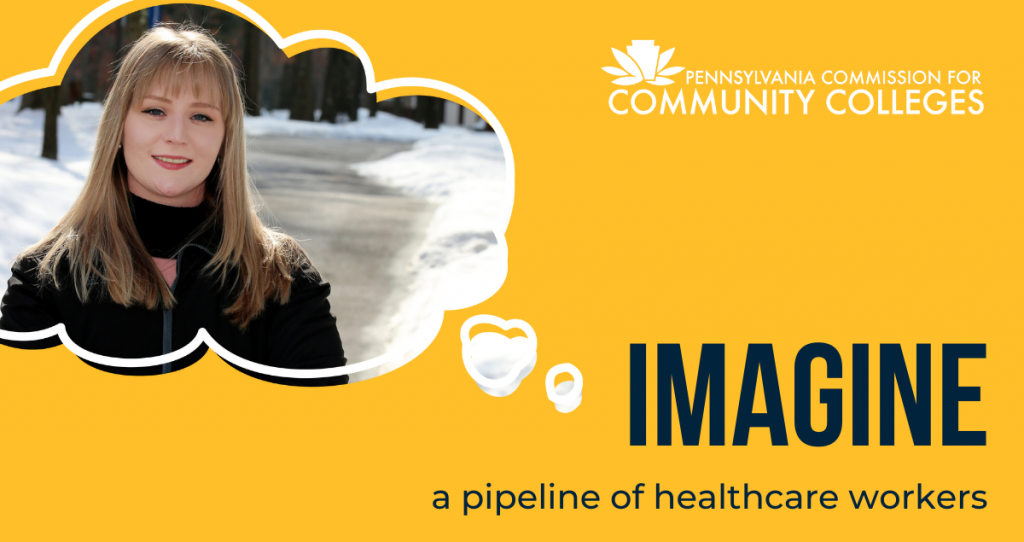 "Because of the outstanding education I received at community college, I am graduating this spring into a career as a Registered Nurse (RN) in the ICU of Allegheny General Hospital. Some people go to college for four years to get the same credentials I will have earned in two years – and I'll graduate debt-free thanks to a scholarship from Butler County Community College (BC3)!" said Kassandra Smith of Armstrong County. "I see this as just the beginning for me. My next goals are to become a homeowner here in Pennsylvania, continue my education through graduate school, and help train the next generation of nurses and healthcare professionals as an instructor. I have a roadmap to achieving most of that thanks to the things I learned at BC3."
Ms. Smith said that nursing had always been an interest, but she was inspired to pursue her passion because she saw the devastating impact COVID-19 on the healthcare industry. Pennsylvania desperately needs nurses. Hospitals are reporting record staff vacancies. Patients are waiting hours, sometimes days, for beds due to nursing staff shortages.
Ms. Smith said she sees all of this and knows the healthcare field needs more employees – and more instructors to train them. That's why she wants to work at a community college after graduate school.
Community college nursing programs provide a way out of this crisis. Pennsylvania's 15 community colleges educate and train nearly a quarter of a million students annually including critically needed nurses, granting over 75 percent of nursing associate degrees in the Commonwealth.
More than 75 percent of Butler County Community College's Class of 2021 in registered nursing received one or more job offers or had interviews scheduled prior to completing the college's two-year career program and graduating in May 2021. Graduates of BC3's Registered Nursing program who accepted job offers in the high-priority occupation in western Pennsylvania said they will work in Allegheny, Butler, Clearfield, Elk and Jefferson counties.
Ms. Smith said she's also grateful that BC3 invested in her by awarding her the Daniel & Mary Agnes Heineman Scholarship. The scholarship ensured she could graduate debt-free and have assets to invest in her future, as her financial aid had run out. The scholarship also allowed her to focus on her coursework, which is essential in a field as critical as nursing.
"I would encourage everyone to consider community college to help them gain the education or training they need to enter the workforce," Ms. Smith concluded. "With the proper investment and support, I believe community colleges will help build a workforce that allows Pennsylvania's economy to flourish."