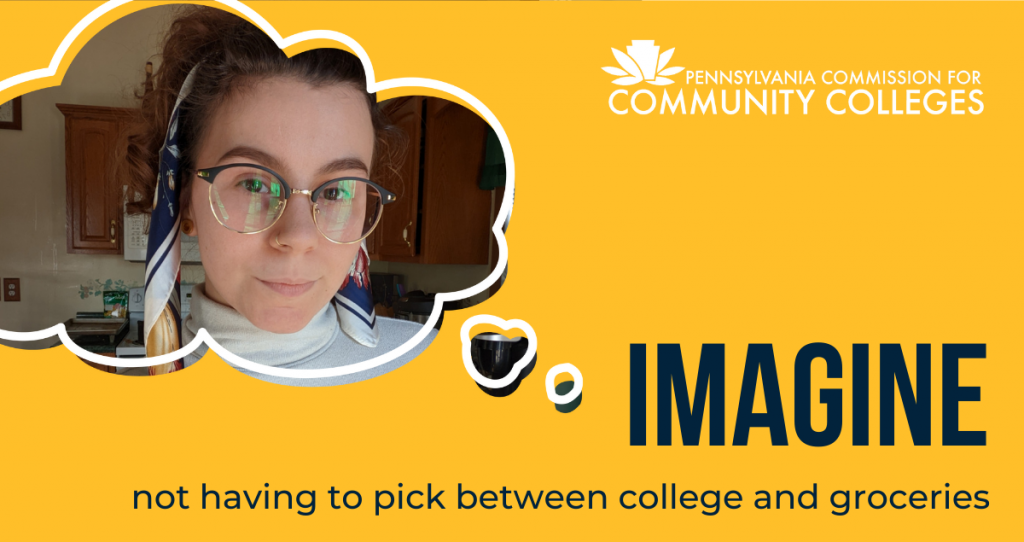 "Neither of my parents graduated from high school. Being a first-generation college student, I can't ask family for advice or money for college," said Scotti Burnsworth, a Community College of Beaver County (CCBC) student set to graduate in the Fall of 2022 with an associate degree in software development. "Honestly, I don't think I'd be in college with plans to transfer if it wasn't for some of the support services offered by CCBC. I have used their food pantry so that I have something to eat; they accommodated my disability. I'm a self-supporting student and community college made higher education possible for me."
Ms. Burnsworth, who graduated from high school in 2018, took a break after high school to move out, earn a living and get on her feet. In 2019, she enrolled in CCBC's online classes with a psychology major, but soon realized psychology wasn't her true passion. She fell in love with software design.
"Technology can take you in so many different directions. It's used in every single field – medical, transportation, aviation, you name it! Software engineers make all that stuff. I could change the world with what I'm learning at CCBC," explained Ms. Burnsworth.
After graduation from CCBC, Ms. Burnsworth aspires to transfer to Carnegie Mellon University in Pittsburgh or Robert Morris University in Moon Township. She says that is possible, in part, thanks to the cost-savings she achieved by starting at her postsecondary journey at community college.
"Transferring from community college saves you tens of thousands of dollars," said Ms. Burnsworth.
However, Ms. Burnsworth has faced many barriers in pursuing her education, such as mental illness and food insecurity. Nearly three in five college students nationwide lacked access to food or housing during the Fall 2020 semester, according to a report by the Hope Center for College, Community and Justice released last year. Pennsylvanians shouldn't have to choose between college classes and putting food on the table. Thanks to the support services at CCBC, Ms. Burnsworth didn't have to.
Offering the lowest tuition among colleges and universities in the state, Pennsylvania's community colleges educate and train more low-income, minority and first-in-their-family students than any other sector of higher education. But as Ms. Burnsworth makes clear, community colleges need investment that reflects that.
"Funding education should be a priority in the Commonwealth," she said. "It changes lives and communities for the better. We wouldn't have doctors, engineers, pilots, or teachers without higher education. The way I see it, it's the root of everything good in Pennsylvania.
"For me, community college was the key to higher education, and higher education is the key to a better life," Ms. Burnsworth concluded. "I'm so grateful to CCBC."