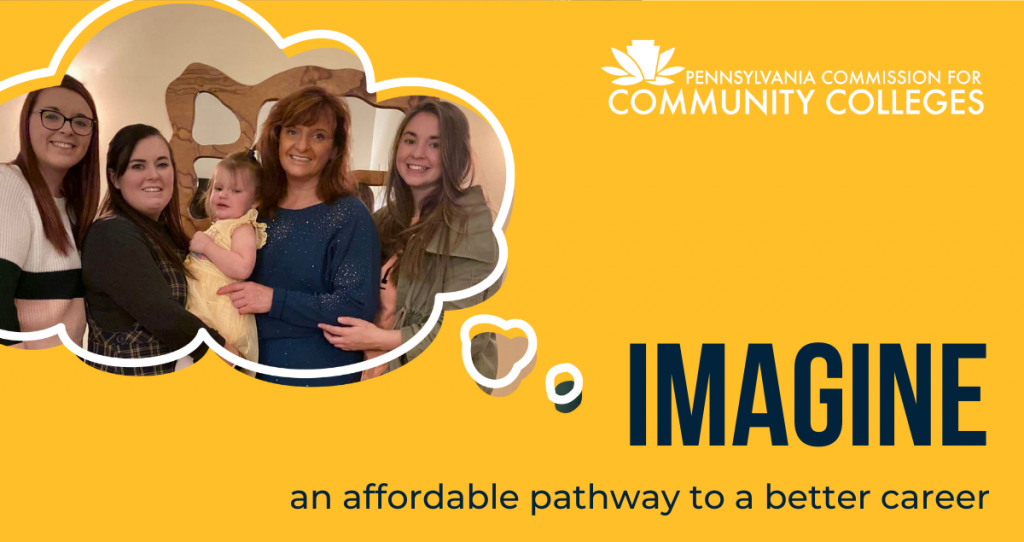 "I ran the café on the Upper Bucks Campus of Bucks County Community College the four years before the pandemic hit. My food service and catering business was thriving at the time, but one day my daughter – who was enrolled at Bloomsburg University – called me and told me about COVID. I didn't watch the news, so it was a complete shock. That was my final day there," recalled Sheila McCoy. "I remember feeling completely numb while packing up the food, with no plan for the next day, hour, even minute."
Ms. McCoy, now a 52-year-old Lansdale entrepreneur, watched her youngest daughter's commencement ceremony on the computer that spring. She says they both felt lost, until they sat down one night and made a deal – that Ms. McCoy would go back to school. As one of seven children, college wasn't a financial option for her right out of high school, but she could make it a priority now.
This time she looked to another Pennsylvania community college to help her achieve her dreams – Montgomery County Community College. Ms. McCoy will graduate this spring with an associate degree in Culinary Arts.
"I feel like my community college education opened every door for me," Ms. McCoy shared. "I did two internships through the college – one at Small Batch Kitchen in Lansdale that operates across the country and the other with St. Mary's Rehabilitation Center where I learned holistically how to run a kitchen, including a cycle menu."
As a non-traditional student, Ms. McCoy said she felt intimidated going back to college – especially since some of the instructors were younger than her – but she always understood the value of education and insisted her three children prioritize their studies. Her daughters are graduates of Bloomsburg, East Stroudsburg University and Penn State University and her family has strong ties to the Commonwealth.
"I absolutely plan to stay in Pennsylvania and enrich this community that does so much for me and my family," Ms. McCoy concluded. "Community colleges are the diamonds of our region and deserve investment that reflects that. I'm glad I didn't have to go outside the state to get an excellent education."