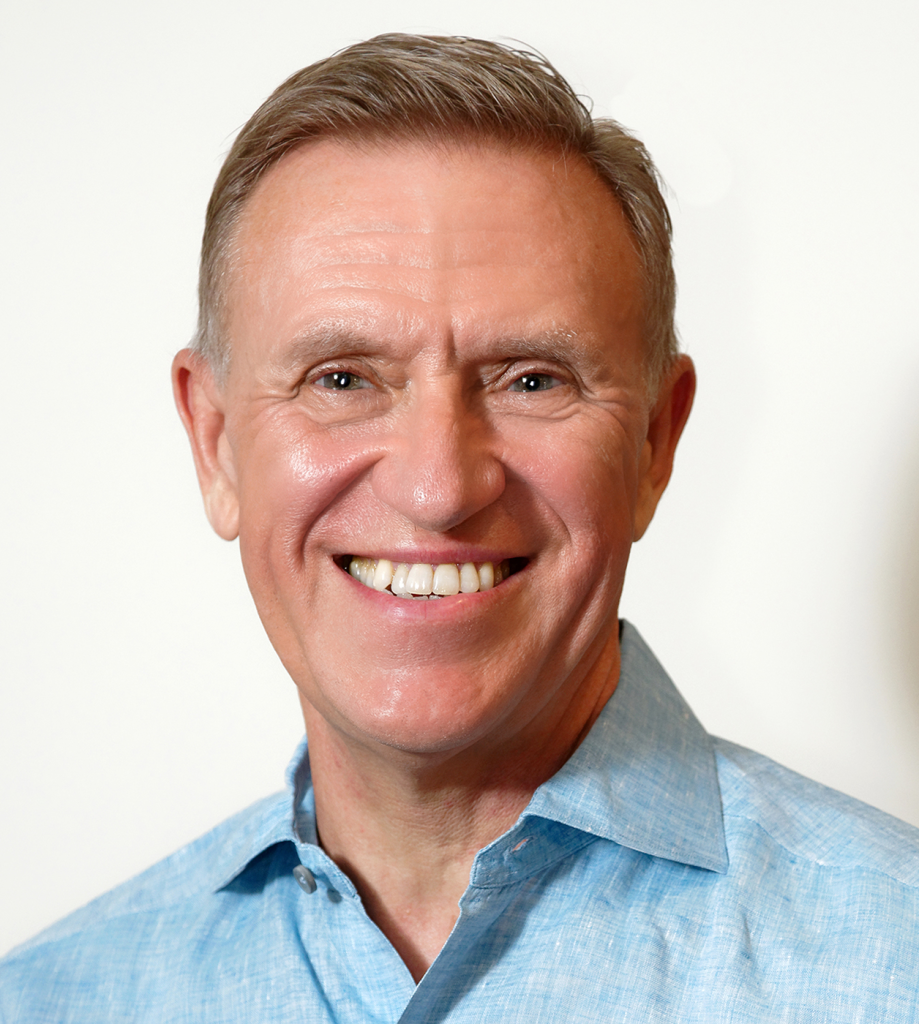 Blake Eisenhart, a member of the Bucks County Community College Board of Trustees, recently shared his perspectives on leadership and the role of community colleges in the Commonwealth. He is currently a candidate for the Association of Community College Trustees (ACCT) Board of Directors.
Q: You've served as a trustee for Bucks County Community College (Bucks) for 36 years, correct? What inspired you to become involved and why have you invested so much time in the college's mission?
A: Yes, that is true. I always firmly believed higher education sets every person on a path to realize their dreams. A notable CEO once said, "To succeed, you need to change faster than the world is changing around you." When I joined the Bucks Board, "access" was considered value received. Today, our priority is ensuring educational value is delivered continuously so that outcomes can be accomplished in a manner independent of barriers over the duration of an individual's life. Think about how we have lived over the last four decades and how rapidly the world has changed around us. Community colleges have a unique capability to benefit our current students and community, to grow the economy, and to increase achievement in our communities. Encouraging students to apply, persevere and obtain credentials to secure post-graduate accomplishment is exciting to me – and is my passion. 
Q: You've joined Horace Mann in calling education the "great equalizer." How are community colleges critical in bridging gaps for Pennsylvanians and Americans?
A: Nationally, only 37 percent of 18- to 24-year-olds enroll in college, and only 57 percent of those who enroll actually graduate within six years. While attending college is not critical for all, providing the opportunity for everyone to achieve their promise is! Community colleges in Pennsylvania educate more low-income and first-in-their-family students than any other sector of higher education in our Commonwealth – nearly a quarter million annually – because we are committed to serving at the community level. This makes us uniquely qualified to provide opportunities to everyone to realize their potential. It is absolutely essential for our Commonwealth's community colleges to remain independent and locally focused with heightened visibility within our respective school districts, communities and locales.
Q: In addition to currently serving on the Association of Community College Trustees (ACCT) Audit & Finance Committee, you're running for the ACCT Board of Directors. If elected, what skills and knowledge from Bucks will you bring to the position?
A: I also served on the ACCT NORTHEAST REGION Nominations Committee last year, and previously many years ago when I was also actively attending ACCT leadership, legislative and annual conferences. I have experienced the challenges and the accomplishments of Bucks, as well as all Pennsylvania community colleges over these many years, and observed how ACCT has responded to support community college trustees over this same period. In my years at Bucks, I have served as Board Chair for five terms, served on four of the five Bucks Presidential searches and chaired the searches for the last three presidents. I was first asked to become Board Chair within two years of my initial appointment, at a time when Bucks faced exceptionally significant organizational and financial challenges. As a CPA armed with business degrees from Lehigh and Wharton Graduate School, and executive experience in banking, Big Eight and international business, I worked closely with the third President to manage through the leadership and financial challenges at Bucks to restore its prominence and ensure our financial resilience. I have seen the best and worst of the trials which community colleges can experience and which Trustees, respectively, must address or facilitate. During my Trustee tenure, I have worked closely and collaboratively with County Commissioners of both political parties and brought objective perspectives from my local community engagement, as well as from my corporate financial, operational, strategic and board governance experiences.
Q: How have community colleges enriched your life or local community?
A: My father was a Lutheran clergyman and, growing up, I learned all too well about the tremendous personal and moral challenges and difficulties which so many humans face in their lives, their marriages, their careers or life choices – regardless of their station in life. So, for me, the countless times I have been witness to any level of student success, faculty accomplishments and/or administrative achievements have been personally rewarding. I am absolutely confident I share with all my fellow Trustees our personal joy when we see our students walk across the stage to receive their diplomas; observing the pride and joy of their parents, spouses, families and friends; and appreciating the joy and happiness in faculty faces as their students fulfill personal dreams. I have also served as Chair of my Township Supervisor Board and have witnessed the pride of my friends and neighbors in our local community college offerings, achievements and recognition – and the value our college facilities can contribute to our communities.
Q: What advice or wisdom can you share with your fellow community college trustees?
A: Whether our service has been long or short, I believe we Trustees realize the significant weight placed on our collective shoulders to ensure our respective community colleges truly serve all constituencies in our institutions and communities exceptionally well. Each Board makes its own luck as it navigates differences of opinions and competing strategic approaches to address the on-going challenge of moving the institution forward. Further the world around us changes more and faster than we sometimes can appreciate, understand or assess. We all need to keep pedaling faster – and more effectively – with the singular goal to making the best decisions for our students, our institutions and our communities. In this rapidly changing world, we have a fiduciary responsibility to be responsible overseers and make the difficult decisions necessary given the times and circumstances as we hold the President accountable with tough love. But isn't the reward of our difficult challenges and determinations so worthwhile and personally enriching!
Q: How has your role as a trustee evolved since you first agreed to serve?
A: I do not believe our role as Trustees has changed, but everything else sure has! There is an old saying, "Nothing changes and nothing stays the same!" The realities of social change, philanthropic fund-raising, delivering value, exceeding expectations, and meeting competing needs have always required Trustee education and oversight. When the world moved at a slower pace, anyone who experienced an academic education had a fundamental or foundational understanding of college trustee responsibilities without requiring any extensive understanding of the complexities of the world. Perpetuating that model and approach today will lead to declining enrollment and institutional jeopardy. Trustees today need to be educated continuously beyond the institution's capabilities and opportunities. Trustees must make time to understand the important dynamics of the marketplace in which our institutions operate – and the capabilities of our competitors. Understanding and appreciating these significant and continuous shifts in our opportunities, our many communities, and our delivery methods will enable Trustees to better recognize the college leadership challenges, and enhance the value we can bring in our oversight, of the institutional missions, equity enhancements strategies, and sustainability performance. This means Trustees must invest more time and effort than ever before to fulfill our day job as Trustees with fiduciary and strategic oversight responsibilities. And the ways of the world are changing more rapidly every day!
Q: Can you share any successes or milestones the Bucks Board of Trustees have had during your tenure?
A: No institution has been without challenges which could have precipitated dire consequences. Fortunately, our institution has a proud history of accomplishment and service to our community which has been characterized as preeminent. The real successes of our Board of Trustees have been to hire really good, highly effective Presidents! The Presidents do the hard work of achieving the mission, serving our communities and managing the institutions. The most important task of any Board is to hire or fire a President. The Bucks Trustees have chosen wisely in the past, overseen our Presidents responsibly, and now are currently excited now about our new President's over-achievement of our expectations.
Q: How would you describe the impact of community colleges in southeast Pennsylvania and statewide?
A: Fortunately, our peers in Southeast Pennsylvania, from Philadelphia to the Lehigh Valley to Lancaster and Reading, have each distinguished themselves in service to their respective communities. Each of us has successfully differentiated our institutions and offerings. As I noted earlier, our success in offering quality, affordable and accessible education and training has been a vital component of the resurgence of growth and economic expansion in this corner of the Commonwealth. It is a tribute to our respective Presidents that we work collaboratively together to serve our unique and vital communities. With the recent reapportionment of our federal and state legislative districts, this greater Southeastern corner of the Commonwealth will collectively control the state and federal legislative representation for the Commonwealth. Our community colleges will be vital and critical constituencies of all the region's legislators – of both parties – all of whom we must now hold accountable to us! Community College priorities should now have strong champions in our governing legislatures.
Q: What do you believe are the biggest challenges facing community colleges in the Commonwealth and across the United States?
A: We have spoken about the rapidly changing world around us and the importance of Trustee education on factors driving change in our marketplaces. I strongly believe our greatest challenges will be:
Reimagining an effective framework for educational equity and most significantly, understanding the continually evolving "priorities and wants of our customers";
Addressing student preferences including customized education and student mental health and well-being;
Revisiting our facilities and workforce expenses including managing effectively our two main strategic cost centers – facilities and workforce; and
Surviving the merger and acquisition activities accelerating in higher education due to declining enrollments, higher operating costs, and increasing competition.
For Mr. Eisenhart's full biography, please click here.