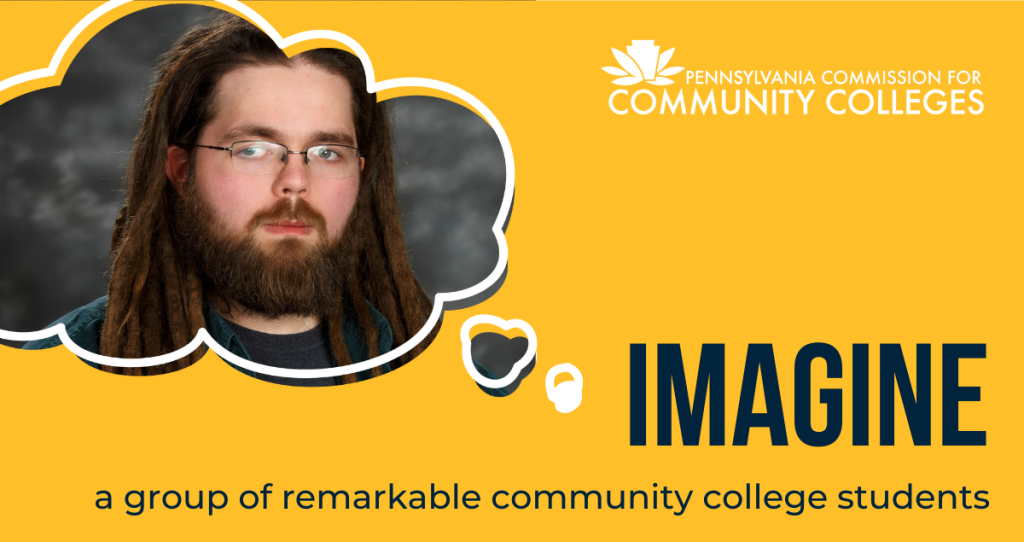 "When I graduated high school, I made a deal with myself: If I didn't have a career by 25, I'd go to college. So – at 25, when I didn't have a career – I went back to school. I found the pathway to a meaningful future at community college," said Matthew Gaul, the 2022 Coca-Cola New Century Transfer Scholar from Pennsylvania Highlands Community College (Penn Highlands). "Community college made the cost of pursuing higher education manageable, which gave me the confidence I needed to follow my dreams."
Mr. Gaul is a member of the 28th Annual All-Pennsylvania Academic Team, a remarkable group of community college students who have achieved academic excellence and demonstrated a commitment to their colleges and communities. The 2022 awardees include 46 outstanding community college transfer scholars and eight exceptional workforce pathway scholars from across the Commonwealth.
At Penn Highlands, Mr. Gaul spearheaded a program to expand tutoring opportunities, specifically in the area of biology. Although he plans to transfer to Indiana University of Pennsylvania after he graduates with his associate degree in spring 2022, he said he intends to continue his volunteer work at Penn Highlands.
"We've seen both grades and confidence improve since we began expanding the program," he shared. "I feel like I'm making a difference here."
After he earns his bachelor's degree, Mr. Gaul plans to pursue a master's degree and a career in environmental biology and conservation. He said he believes Pennsylvanians deserve clean air and pure water and wants to ensure that they have it. He aspires to continue and expand his work with PA Woods and Forests, which seeks to conserve natural habitats through educational programs and citizen science-based habitat restoration. One day he hopes to work for the Pennsylvania Department of Environmental Protection.
"Community colleges make higher education more accessible and realistic for Pennsylvanians like me who couldn't otherwise afford postsecondary study," Mr. Gaul said. "I don't understand why everyone doesn't start here."
Mr. Gaul received the highest All-PA application score in Pennsylvania, and was named the Coca-Cola New Century Transfer Pathway Scholar, which comes with a $2,250 scholarship from the Coca-Cola Educational Foundation. Transfer students must have completed at least 36 credits at a community college and must have a cumulative GPA of 3.5 or higher to be considered for these awards.
The All-USA Community College Academic Team is sponsored by Cengage, with additional support provided by Phi Theta Kappa Honor Society (PTK) and the American Association of Community Colleges (AACC). The New Century Scholars program is sponsored by The Coca-Cola Foundation, Coca-Cola Scholars Foundation, PTK and the AACC. In addition to being individually recognized on Twitter during Community College Month in April, a video honoring their achievement is included below. For more information on the 2022 All-PA Team, please click here: https://bit.ly/2022PATeam.