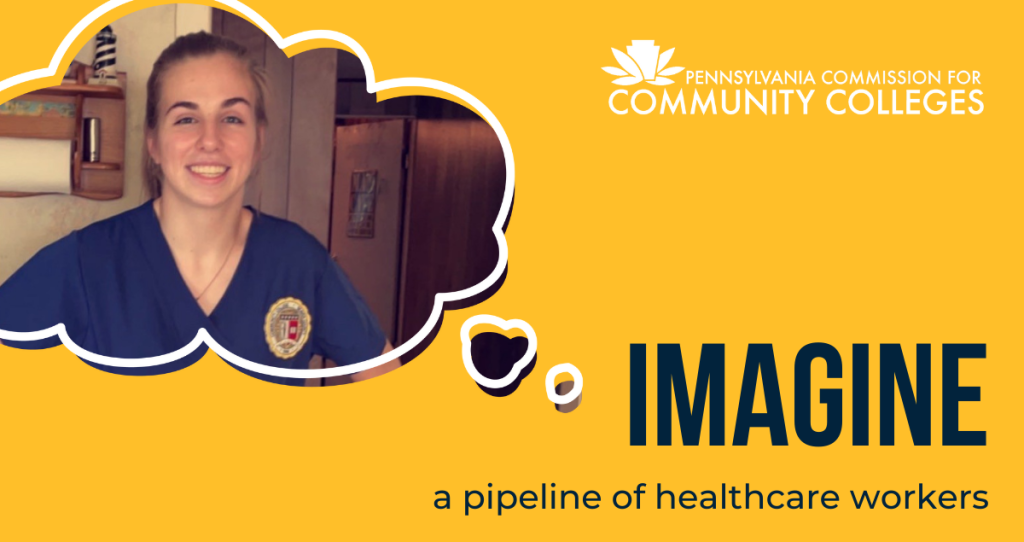 "I had friends and family who went to the Community College of Beaver County (CCBC), so I knew it offered a quality education at an affordable price," said Mackenzie Morrell, a CCBC student who plans to graduate in the spring of 2023 with an associate degree in nursing. "My family life wasn't always the greatest and I knew I couldn't afford a university as a self-supporting student. Fortunately, CCBC has one of the best nursing programs in the area. For me, community college was an easy choice."
Ms. Morrell said her grandmother had been a nurse, and she decided in her junior year of high school that she wanted to help people who were sick. After she saw the devastating impact of COVID-19 on the healthcare industry, she was further inspired to pursue her passion. Pennsylvania desperately needs nurses. Hospitals are reporting record staff vacancies. Patients are waiting hours, sometimes days, for beds due to nursing staff shortages.
Ms. Morrell said she sees all of this and knows the healthcare field needs more employees – and she's excited to be one of them here in the Commonwealth.
"The shortage of healthcare workers in Pennsylvania just made me want to help even more," she shared. "After I graduate, I hope to get a job at Heritage Valley Health System here in Beaver County."
Community college nursing programs provide a way out the healthcare workforce crisis. Pennsylvania's 15 community colleges educate and train nearly a quarter of a million students annually including critically needed nurses, granting over 75 percent of nursing associate degrees in the Commonwealth.
CCBC, which is celebrating its 55th anniversary of nursing and healthcare this year, has practical nursing and phlebotomy programs that boast a 100 percent pass rate. Locally, they partner with employers to provide a pipeline of critically needed healthcare workers in Beaver and Washington Counties.
Ms. Morrell said she's also grateful she was awarded an honors scholarship at CCBC, in addition to qualifying for a Pell Grant.
"Because I chose community college, my college was basically free," she beamed. "Community colleges are helpful for people like me who can't afford a degree with a high price tag. I'm living proof that they offer a life changing education."