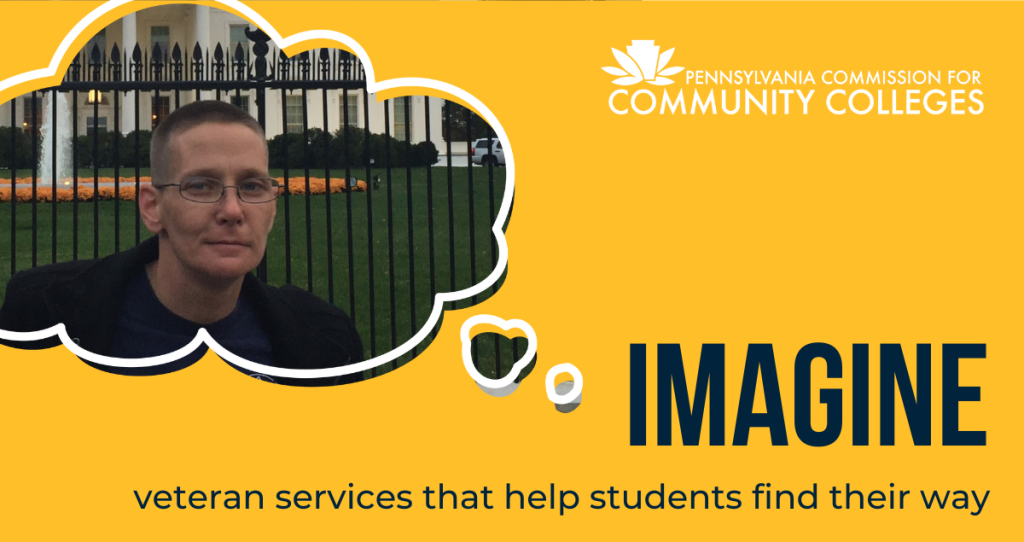 "I've always wanted to serve my country," said Colleen Hennessy, non-traditional student at Northampton Community College (NCC) who also works full-time. "The Airforce seemed like a good fit, and offered more opportunity, so I enlisted."
Following her honorable discharge in the late-90s, Ms. Hennessy struggled with PTSD, as many veterans do. In 2015 she sought help, and three years later, she enrolled at NCC. She now envisions a bright future, with hopes to transfer to East Stroudsburg University to earn a degree in data analysis. She dreams of one day working at the U.S. Department of Homeland Security.
Ms. Hennessy found the Veterans Services Center at NCC helpful as she sought answers to her questions, but she considers her community college education as academically rigorous as any four-year program. She says that, without community college, she would still be jumping from one dead-end job to another.
"Community colleges help people find their way – at a price that is reasonable," she explained. "More than anything, I want everyone out there who's struggling to know that they have the chance to change their life like I did. There are resources out there to help you become the person you want to be. Northampton Community College was that resource for me."
Pennsylvania community colleges recognize the sacrifice of those who have served in any branch of the United States Armed Forces and are honored to serve those who have served our country.
Veterans, servicemembers, survivors, and spouses or dependents of a veteran may be eligible for veterans' educational benefits to help achieve educational goals. Many community colleges offer an office or resource center dedicated to services for veterans on their campuses where veterans, servicemembers, spouses or dependents can receive assistance with their transition to college life, learn about educational benefits and work-study opportunities, or meet with other veterans. The departments also provide referrals for campus and community services for veterans. At some colleges, veterans can receive college credit for some of their military training, including basic training.
Specific military and veteran services vary by community college. Please click on a link in the list of offerings and designations below to learn more about a college or program.