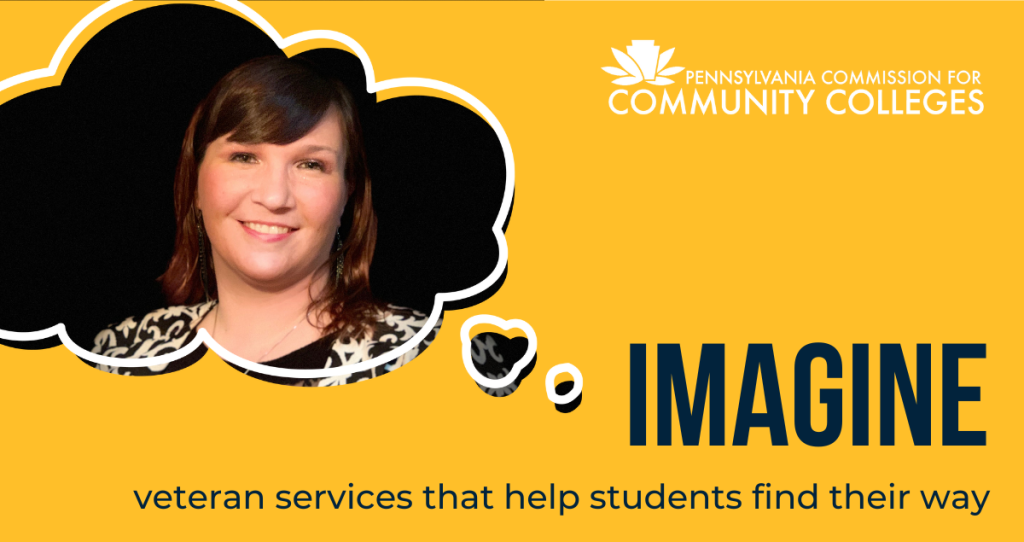 "In 2016, I realized my calling. I wanted to establish a veteran's support group for women focused on empowerment in the Lehigh Valley. I had all these skills from advocating and teaching – public speaking, facilitating – but I didn't have the business skills to start my own non-profit. So I went back to school," recalled Jennifer Pacanowski, Founder and Director of Women Veterans Empowered & Thriving (WVet) and class of 2020 alumna of Lehigh Carbon Community College (LCCC). "I had found my dream and my calling, I just needed to learn the skills to achieve that dream – and that's why I started at community college."
Ms. Pacanowski had tried higher education in the past. Immediately after graduating high school, she enrolled in a private college and struggled for the next five years, until she had $40,000 in student loans but no degree. She joined the army to seek relief from the burden of her student loan debt. She served as a combat medic, providing first response medical support for convoys on the front lines in Iraq.
"The military was a challenging and quick but defining part of my life. It was training, then war, then the reserves," she said. "In 2007 I was diagnosed with severe PTSD. I almost didn't survive my transition back to civilian life, but eventually I found a community of other people from the same background who were also struggling with their mental health. I just kept trying different things until something finally helped. I didn't give up."
Her second try at postsecondary education, Ms. Pacanowski said, was different. She said that at community college she found more support. Since graduating with an associate degree in 2020, she transferred to Moravian University and earned her bachelor's degree. Ms. Pacanowski is currently pursuing a Master of Fine Arts degree in Performance Creation while working full-time, raising two stepchildren and training bullmastiffs as a hobby.
"If someone had told me in high school that I didn't need a $65,000-a-year college to get a quality education, my life might have been different," reflected Ms. Pacanowski. "I think it's critically important that Pennsylvania doesn't price students – especially low-income individuals – out of higher education. Community colleges are worth the investment of state dollars."
Pennsylvania community colleges recognize the sacrifice of those who have served in any branch of the United States Armed Forces and are honored to help those who have served our country.
Veterans, servicemembers, survivors, and spouses or dependents of a veteran may be eligible for veterans' educational benefits to help achieve educational goals. Many community colleges offer an office or resource center dedicated to services for veterans on their campuses, where veterans, servicemembers and spouses or dependents can receive assistance with their transition to college life, learn about educational benefits and work-study opportunities, or meet with other veterans. The departments also provide referrals for campus and community services for veterans. At some colleges, veterans can receive college credit for some of their military training, including basic training.
Specific military and veteran services vary by community college. Please click on a link in the list of offerings and designations below to learn more about a college or program.
Jennifer Pacanowski is the Founder and Director of Women Veterans Empowered & Thriving (WVet), which will hold Student Military Community Empowerment Workshops every other Tuesday this fall. They are specifically designed for student veterans, dependents of veterans/servicemembers, ROTC, Reserves and National Guard members at Lehigh Valley colleges and universities. The next workshop is Tuesday, November 8, 2022. For additional information or to register, please email: [email protected].