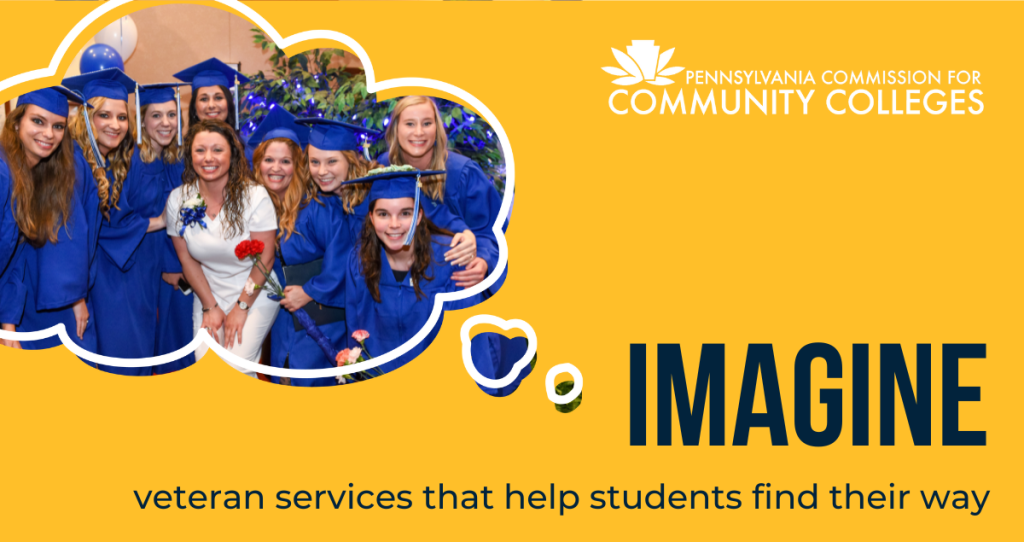 "Someone in my family has been in service to our country since the Civil War. I started out as a reservist," said Jodi Catanzarite, R.N., a member of the Air Force Reserve who earned an associate degree in nursing from Butler County Community College (BC3) in 2018. "I always knew I wanted to be in health care, and I found my pathway (to) the career I wanted at (a) community college."
Ms. Catanzarite says she chose a community college because she was working full time and needed the flexibility offered by BC3 to pursue her nursing degree. She completed her classes, but she was not able to attend the pinning ceremony in 2018 because she was required to attend a mandatory two-week training before she deployed.
Her classmates didn't forget her, though. Ms. Catanzarite received her pin a few weeks later during BC3's 2018 commencement. She wore her white nursing scrubs under her gown and on which she would receive her pin. As a tribute to Ms. Catanzarite and her fellow servicemembers, BC3's registered nursing club worked with the Yellow Ribbon Girls to collect items such as batteries, powdered drink mix, protein bars, microwave meals, battery-powered fans, and two-ply tissue paper for U.S. troops.
Now, nearly five years later, Ms. Catanzarite is working as a registered nurse in the spinal cord injury unit at a VA hospital while she pursues a bachelor's degree. The reservist's dream is to become a nurse with the Air Force.
"I've helped hundreds of people thanks, in part, to the education I received at (a) community college," Ms. Catanzarite explained. "I walk into the room and my patients see my Air Force lanyard and we immediately relate to each other. I love being a nurse."
Pennsylvania community colleges recognize the sacrifice of those who have served in any branch of the United States Armed Forces and are honored to assist those who have served our country.
Veterans, servicemembers, survivors, and spouses or dependents of a veteran may be eligible for veterans' educational benefits to help achieve educational goals. Many community colleges offer an office or resource center dedicated to services for veterans on their campuses where veterans, servicemembers, spouses or dependents can receive assistance with their transition to college life, learn about educational benefits and work-study opportunities, or meet with other veterans. The departments also provide referrals for campus and community services for veterans. At some colleges, veterans can receive college credit for some of their military training, including basic training.
Specific military and veteran services vary by community college. Please click on a link in the list of offerings and designations below to learn more about a college or program.
Read more of Ms. Catanzarite here: https://www.bc3.edu/news/pdf/BC3-RN-grads-to-salute.pdf.