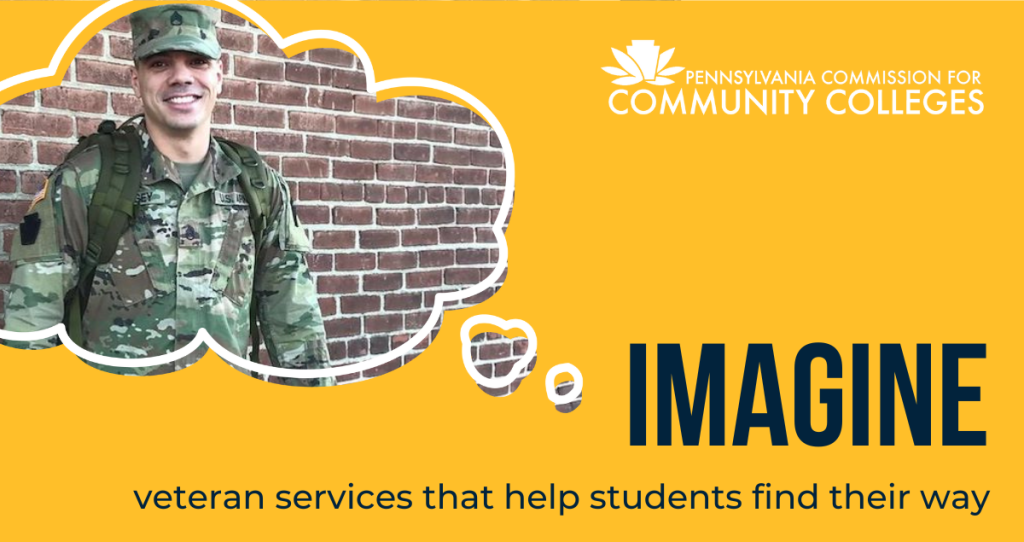 "I fell in love with the medical profession when I was volunteering as an EMT for Harleysville Area Emergency Medical Service, Inc. I knew before I even graduated high school that I wanted to be a nurse and help people in my community," said Joel Bergey, a Montgomery County Community College (MCCC) alumnus and Pennsylvania Army National Guard servicemember. "As one of 12 kids, I needed help paying for college and also wanted to serve my country. I'm still a medic in the National Guard today."
Following his deployment in 2012-13, Mr. Bergey got married, started a family and decided to pursue a nursing degree, all while working full-time. He chose his local community college, which offered quality, affordable, flexible postsecondary education that accommodated his busy schedule. After receiving his associate degree in Nursing in 2018 from MCCC, he went on to earn his bachelor's degree and is now employed at the Hospital of the University of Pennsylvania in Philadelphia. He says he'll likely continue his education and pursue a master's degree.
"For my soldiers now, I always tell them to start at community college because it's affordable and you can transfer anywhere," Mr. Bergey said. "For me, life happened, but community college gave me the flexibility I needed to complete classes at my own pace. I think these institutions are essential for Pennsylvanians like me to train for in-demand careers."
Pennsylvania community colleges recognize the sacrifice of those who have served in any branch of the United States Armed Forces and are honored to serve those who have served our country.
Veterans, servicemembers, survivors, and spouses or dependents of a veteran may be eligible for veterans' educational benefits to help achieve educational goals. Many community colleges offer an office or resource center dedicated to services for veterans on their campuses where veterans, servicemembers, spouses or dependents can receive assistance with their transition to college life, learn about educational benefits and work-study opportunities, or meet with other veterans. The departments also provide referrals for campus and community services for veterans. At some colleges, veterans can receive college credit for some of their military training, including basic training.
Specific military and veteran services vary by community college. Please click on a link in the list of offerings and designations below to learn more about a college or program.

Read more of Mr. Bergey's story here: https://www.mc3.edu/news/2020/student-stories/alumni-story-joel-bergey.