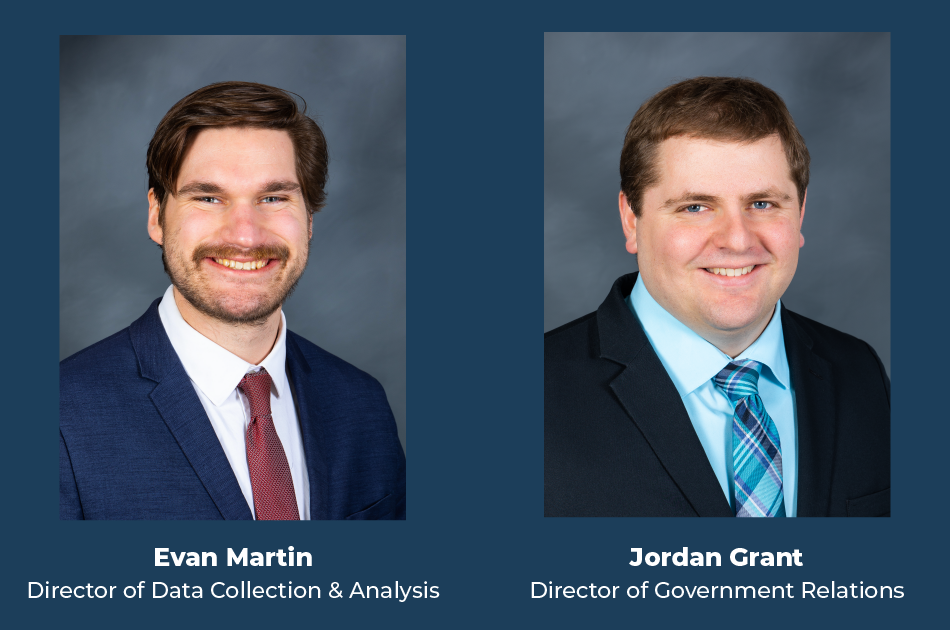 PACCC is pleased to announce two additions to our team: Jordan Grant as Director of Government Relations and Evan Martin as the Director of Data Collection & Analysis.
Grant previously led government relations for the Pennsylvania Association of Community Bankers, serving as the organization's primary lobbyist in Harrisburg and Washington. Prior to his position at PACB, Grant was Legislative Director for a member of the Pennsylvania House of Representatives, where he developed and implemented strategies to advance policy initiatives.
"Throughout my career, I have concentrated on building and maintaining coalitions to move significant pieces of legislation at both state and federal levels," Grant said. "I am excited to now put that experience to work for the collective needs and vision of Pennsylvania's community colleges, which are vital to our Commonwealth's system of education and workforce development."
Grant, an avid hockey fan, earned his Bachelor of Arts degree in politics from Drake University.
He resides in York County with his wife Megan and two young children.
Martin formerly was an investment analyst for the Pennsylvania Treasury, where he conducted research, provided reporting and developed policy recommendations. He also was a legislative specialist for the Treasury, leading efforts to assist the General Assembly with inquiries and providing data and reports. Notably, Martin worked on Pennsylvania education initiatives including development of the PA Skills Compact and creation of the Keystone Scholars Grant Program.
"I personally credit my own community college experience as the steppingstone for my career path in state government," Martin said. "As data collection and analysis lead for PACCC, I'm now looking forward to applying my research skills, state budget knowledge, and background in higher education to advocate for community colleges across the Commonwealth."
Martin is a graduate of HACC, Central Pennsylvania's Community College, and earned his Bachelor of Arts in economics from Temple University. He resides in Harrisburg and volunteers as a percussion instructor for local high school marching bands.
"Investment in Pennsylvania's community colleges is an investment in the strength of our workforce and the health of our economy, and Jordan's and Evan's combined talents are going to help us further showcase the value of that investment," said Elizabeth Bolden, PACCC President and CEO. "We are fortunate to have the benefit of their expertise as we advocate for our community college members."