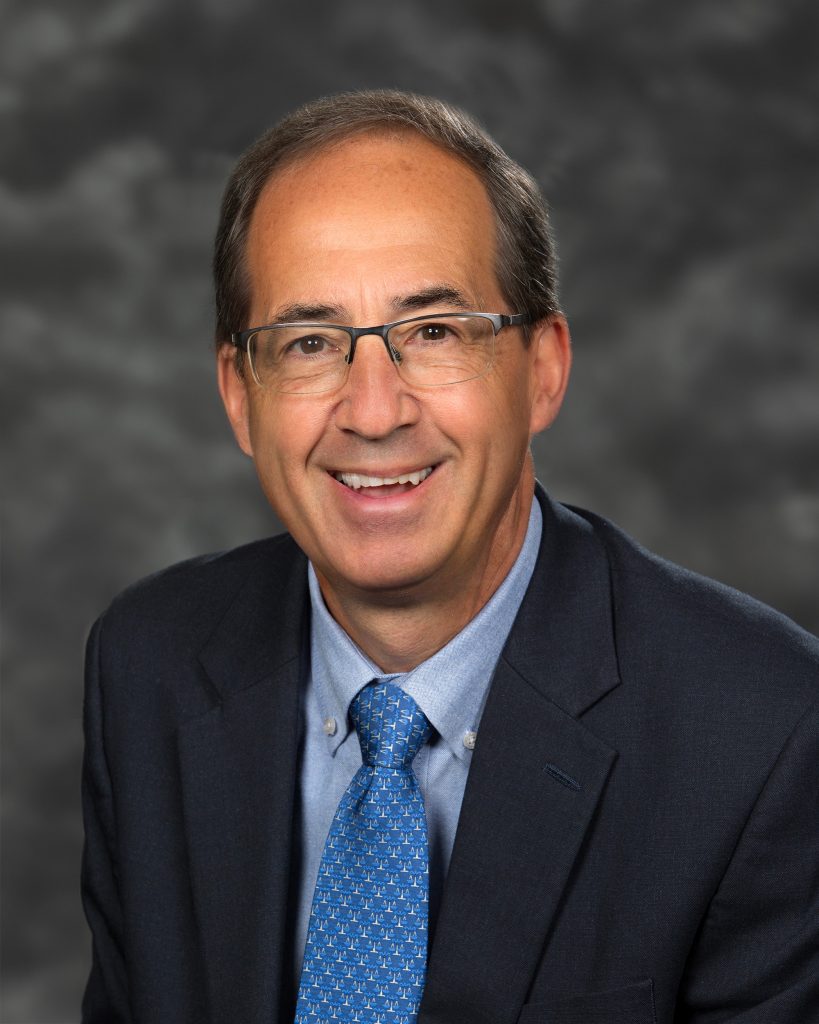 Gregory Winger has been a Trustee of Pennsylvania Highlands Community College since 2013 and its Board Chairperson since 2018. Greg is Senior Vice President, Regional Credit Officer, for First National Bank's Central Mountain Region. He also is a Board member for Johnstown Area Regional Industries and Cambria County Area Chamber of Commerce. Greg earned his bachelor's in accounting from Penn State University and an MBA from Indiana University of Pennsylvania. He and his wife, Teresa, reside in Johnstown.
---
What is something the Pennsylvania Highlands Community College Board has accomplished under your leadership that you are particularly proud of?
In June 2021, Penn Highlands purchased its Cambria County headquarters and primary campus location that it had previously leased for several years from the Richland School District. The purchase provides long-term stability to the college, our students, and our faculty and staff, which better positions the college for long-term planning to enhance its academic and workforce development offerings. It also demonstrates to our Cambria County stakeholders that Penn Highlands is committed to improving the lives of area residents. We have already made major building improvements, including the opening of our state-recognized regional police academy in 2022.
What do you believe are the biggest challenges facing community colleges in the Commonwealth?
Pennsylvania's community colleges are facing a demographic decline in the number of high school graduates. Therefore, it is incumbent upon us to actively demonstrate the value and benefits of a community college education to our traditional and non-traditional students to effectively compete in the higher education landscape.
In today's fiscal environment, community colleges also face challenges with respect to state budget appropriations and keeping tuition affordable given our historical missions and student populations. We need to demonstrate to our legislators and to our other community stakeholders that investments in our community colleges have a high rate of return for our local communities in terms of employment, meeting workforce development needs, providing an opportunity for students they otherwise would not have, and retaining skilled talent in our Commonwealth.
Unfortunately, too many people aren't aware that a community college degree can be a steppingstone to a four-year degree through our many articulation agreements across the state or to career advancement through our workforce development programs. Community colleges and our Trustees need to make sure we constantly educate and inform our stakeholders about the many advantages of our programs.
How does Penn Highlands enrich the local community?
Penn Highlands provides direct wages and other economic benefits to our local communities by employing over 100 full-time and 50 part-time employees. Additionally, the college is engaged in workforce and economic development by providing accessible, affordable and quality higher education opportunities to the communities we serve. Most of the college's graduates want to remain local, and therefore they will work, live, raise families, play, and volunteer locally – boosting the local economy.
We believe that the word "community" is a critical component of our name and to our ongoing mission. To this end, we have engaged our communities in a number of ways outside of providing opportunities to earn a higher education. These include our "One Book One Community Program" which brought together over 1,400 middle school students from 11 school districts with the goal of promoting science and critical thinking. We are a regional leader in workforce development with Penn Highlands President Nunez leading a Workforce Development Roundtable with business, industry and education leaders from across our region. In 2022, we hosted our first-ever CareerFest which enabled over 150 high school seniors from our
region to interact with 12 local business leaders. We have been proud sponsors of the Cambria County College Fair, which brings together several hundred students and 75 colleges and universities to promote educational and career opportunities annually.
We are also very proud of our students' community involvement. These activities have included 1) participating in Discover Downtown Johnstown, an initiative to beautify the city, 2) working with the local Bottle Works Ethnic Arts Center by filming and producing videos for a community event, and 3) supporting a single-parent family for Christmas at Cambria County Children and Youth Services. Additionally, our students have volunteered many hours to help many needy individuals and families at local food banks, family kitchens and a domestic violence agency.