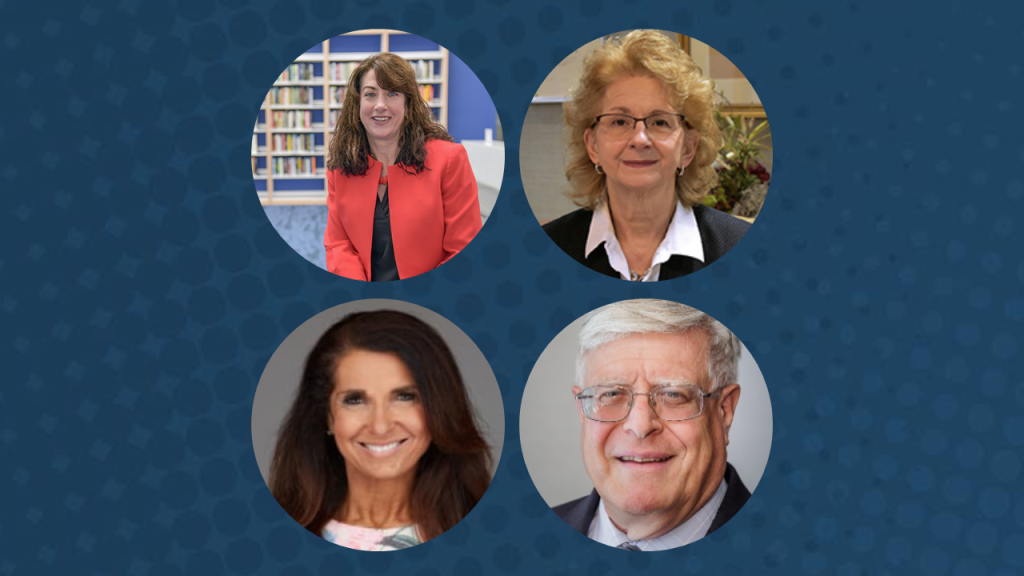 The Pennsylvania Commission for Community Colleges has announced that its board of directors has elected the following individuals to the board's executive committee to serve a term from July 1, 2023 through June 30, 2025:
Chair: Tuesday Stanley, Ed.D., President, Westmoreland County Community College
Vice Chair: Ann D. Bieber, Ed.D., President, Lehigh Carbon Community College
Secretary: Catherine R. O'Donnell, J.D., MBA, Board of Trustees Chair, Luzerne County Community College
Treasurer: Robert Fehnel, Board of Trustees Chair, Northampton Community College
Dr. Stanley joined Westmoreland County Community College in 2014 as the first female president of the nearly 50-year-old institution. In addition to serving as the executive committee chair for the PACCC board of directors, Dr. Stanley serves on the boards of the Economic Growth Connection, Westmoreland Cultural Trust, Indiana County Chamber of Commerce, Westmoreland-Fayette Workforce Investment Board, Challenger Learning Center, Westmoreland Museum of American Art and the advisory board for HERDI, Higher Education Research & Development Institute. She also is chair of the Westmoreland County Forum for Workforce Development.
Dr. Bieber was appointed the fifth president of Lehigh Carbon Community College in 2014. She began her career at the college in 1981 and over the years held numerous positions including senior vice president of administrative services and dean of continuing education. She also serves as a member of the Lehigh Valley Partnership and on the board of directors for the Workforce Board Lehigh Valley, Lehigh Valley Economic Development Corporation, KidsPeace, Manufacturers Resource Center, Allentown Neighborhood Improvement Zone Development Authority, Century Promise and the DaVinci Science Center.
O'Donnell has served as a member of Luzerne County Community College's board of trustees since 2018. O'Donnell practices law with O'Donnell Law Offices and serves as the firm's business manager. She is immediate past president, past two-term executive committee member, and current member of the Wilkes-Barre Law and Library Association (Luzerne County bar); president of the Luzerne County Bar Association Charitable Foundation; member of the boards for Luzerne County Dress for Success; Jewish Community Alliance of NEPA; Junior Leadership Wilkes-Barre; and United Way of Wyoming Valley.
Fehnel was elected chair of the Northampton Community College board of trustees in 2014, after serving as vice chair for ten years. His long and distinguished service on the board exceeds 35 years, including 25 years as chair of the board's finance and college facilities committee. Fehnel's commitment to community service and public education is also evident in his 31 years of service on local school boards, including 20 years as president of the Wilson Area School Board (25 years of service total) and currently in his second term on the Easton Area School Board. He also serves on the Chrin Family Foundation which supports STEM Programs for Easton School District students. Fehnel is a graduate of Northampton Community College. He is employed as the director of print and mail operations for BerkOne in Bethlehem, PA.
Pennsylvania's 15 community colleges, with 80 campus locations, are the largest provider of postsecondary education and workforce training in the Commonwealth. The colleges educate over 230,000 students from all 67 counties. Over 110,000 students are enrolled in the colleges' workforce development programs and over 75 percent of those programs align with High Priority Occupations as identified by the Pennsylvania Department of Labor & Industry. The colleges award over 4,000 credentials annually in healthcare alone, including 75 percent of all associate degrees in nursing in the state.