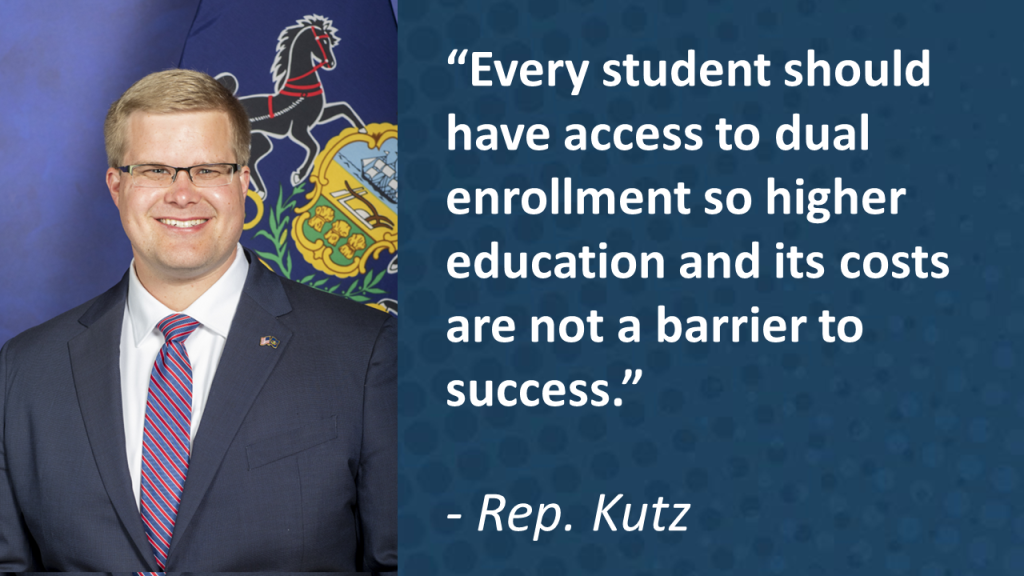 Rep. Thomas Kutz is a lifelong Cumberland County resident elected to serve the 87th State House District in 2022. During the 2023-24 Legislative Session, he is serving on the House Appropriations, Housing and Community Development, Children and Youth and Insurance Committees.
Rep. Kutz has long been involved in his community through various nonprofit organizations and church leadership roles. A licensed attorney, he has served in various legislative decision-making positions, including as a staff member for the U.S. House Ways and Means Committee and a policy director in the Senate of Pennsylvania. He is proud to have served on the Lower Allen Township Board of Commissioners and continues to serve on the Pennsylvania Election Law Advisory Board.
Rep. Kutz holds degrees from Grove City College and Widener University Commonwealth Law School.
As a new member of Pennsylvania's House of Representatives, what are your priorities for this session?
Pennsylvania is facing slowed population growth and an aging population due to obstacles to opportunity and barriers to homeownership. My focus has been on policies that benefit small businesses and helping Pennsylvania become a place where young families and new businesses can plant roots so that Pennsylvania can thrive and prosper. This includes aiding our workforce by making training and higher education more accessible and affordable and cutting barriers to homeownership by reducing closing costs for homebuyers and first-time homebuyers in particular.
You have been very open about the fact that your experience as a dual enrollment student had a positive impact on your career. Can you explain how it was positive for you?
Dual enrollment was the first step that opened doors for my entire career. It first allowed me to explore the rigors of higher education while managing only a few courses and set me up for success through the remainder of my undergraduate career. It also allowed me to save tens of thousands of dollars in both tuition and living costs by setting the table for me to graduate a year early from college and enter the workforce. Dual enrollment empowered me to take initiative in my educational path and to take charge of my career path.
How do you think we can provide dual enrollment as an opportunity to more students?
Every student should have access to dual enrollment so that higher education and its costs are not a barrier to success. Each school should have a pathway and a partnership with local colleges and community colleges to ensure that every student who desires a head start in higher education is able to do so.
Pennsylvania is facing crisis-level shortages in critical occupations such as healthcare, teaching and public safety. How do you think community colleges can help address these shortages?
Community colleges are ideally situated to help address our workforce shortages. Community colleges provide a quality and affordable education that helps to set up our workforce without the crippling debt of other higher education institutions. Pennsylvania must invest in community colleges and see their role in addressing our growing workforce shortage.
The views and opinions expressed by the legislator are solely that of the legislator and may not reflect the views, opinions, policies or position of the Pennsylvania Commission for Community Colleges or its member institutions.