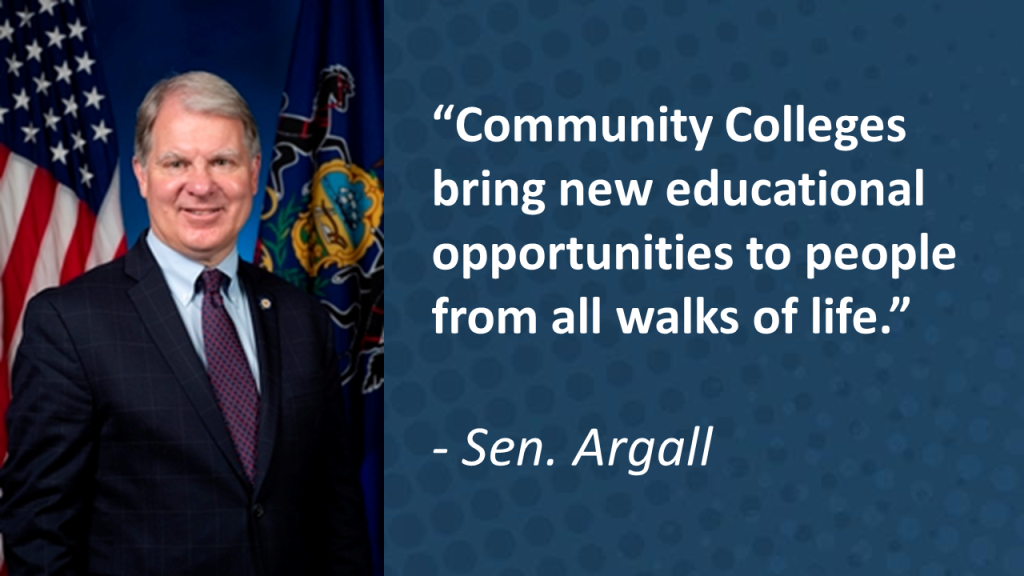 Senator David G. Argall represents the 29th District, which now includes 102 municipalities in northeastern Pennsylvania including all of Schuylkill and Carbon Counties, and parts of Luzerne County including the city of Hazleton.
As a member of the Senate's majority leadership team and the proud grandson of Cornish, Welsh, and German farmers, coal miners, and factory workers, Senator Argall's top legislative priority is revitalizing our downtowns and older industrial neighborhoods. In the Senate, he now chairs the Education Committee, one of the most active legislative committees at the Capitol.
Senator Argall earned a bachelor's degree from Lycoming College and a Ph.D. in public administration from Penn State. Dr. Argall has served as a part-time public policy instructor for more than 30 years at Lycoming College, Penn State, and at Lehigh Carbon Community College, where he helped to lead the transformation of the vacant junior high school where his parents once taught into LCCC's Morgan Center.
What would you say are the biggest challenges facing higher education and postsecondary attainment in Pennsylvania?
The biggest challenge facing Pennsylvania higher education – especially community colleges – is the severe decline in enrollment. Colleges must continue to reach out to students who have completed credits but have not yet graduated. Flexible schedules and keeping tuition costs low need to be priorities for everyone. Reducing the barriers will help boost enrollment.
Community colleges are the largest provider of postsecondary education and workforce training in the state. What role do you see community colleges playing in Pennsylvania?
Community Colleges bring new educational opportunities to people from all walks of life and breathe new life into older communities by offering a more affordable option to a college degree. They are also incredibly responsive to the needs of employers in their communities by preparing students for local, family-sustaining jobs that are waiting for qualified candidates to apply.
I've witnessed the impact in my hometown of Tamaqua, where I worked with many 20 years ago to turn a once-vacant junior high where my parents taught into Lehigh Carbon Community College's Morgan Center. Today that building is the pride of the community!
Pennsylvania is facing crisis-level shortages in critical occupations such as healthcare, teaching and public safety. How do you think community colleges can help address these shortages?
Community colleges can help address these shortages through expanded dual enrollment programs. By encouraging motivated high school students to graduate with an associate degree, we're helping them to earn their bachelor's degree more quickly, at less cost, and encouraging them to enter the workforce faster.
The Education Committee heard testimony about dual enrollment programs at Lehigh Carbon Community College during a recent public hearing as a way to address teacher shortages – we're exploring more ways to support these programs.
Last year, the General Assembly required schools to enter into an agreement with at least one college to provide their students with dual enrollment programs. We also provided grants to schools to support these programs.
The views and opinions expressed by the legislator are solely that of the legislator and may not reflect the views, opinions, policies or position of the Pennsylvania Commission for Community Colleges or its member institutions.