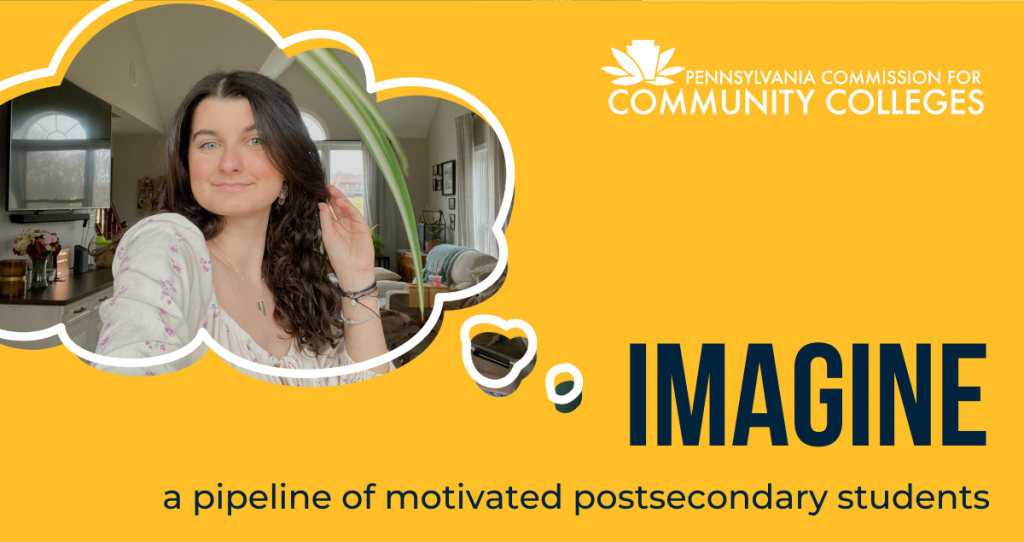 "I think every Pennsylvanian should know about the higher education cost savings you can achieve by starting at community college. Thanks to the Community College of Beaver County (CCBC), I will have a college education and experience without the stress of debt," explained Eponine Farber, who will graduate from CCBC this spring with plans to transfer to Slippery Rock University for Fall 2022.
Ms. Farber, who graduated high school as salutatorian in the middle of the pandemic, had initially planned to attend a four-year university, but she says she changed her mind when she got the bill for the down payment. Instead, her high school guidance counselor pointed out she could attend CCBC without incurring any debt thanks to an honors program scholarship. Ms. Farber fell in love with mathematics and education and now has the goal of someday becoming a teacher or professor here in the Commonwealth after earning a bachelor's degree from Slippery Rock.
Ms. Farber is just one of the thousands of students that transfer from a Pennsylvania community college annually. Last year, more than 31,000 community college students transferred to another college – and 79 percent of them transferred in-state. For example, nearly half of all incoming Pennsylvania State System of Higher Education (PASSHE) transfer students in the Fall 2021 semester came from a Pennsylvania community college, making up a total 12 percent of the new undergraduate population last semester.
Pennsylvania community college transfer students also continue – persist in or complete their program of study – at a higher rate than non-transfer students. All this correlates to a higher rate of student success for community college transfer students – and when you look at employment data, it's clear that continued investment in community colleges and this higher education pipeline is critical for Pennsylvania's vibrant future.
At least 80 percent of community college transfer students who graduate from a PASSHE university with a bachelor's degree are still employed in the Commonwealth three years after graduation. These alumni earn family-sustaining wages that are above median income. Ten years after graduation, 70 percent of these students are still working in Pennsylvania, contributing to a thriving economy and prosperous communities.
"Education is the most important thing to success, as an individual and a state," concluded Ms. Farber. "CCBC has amazing faculty; I'm not sure I could have done this without them. I believe I can do whatever I want in life now because I prioritized my education.