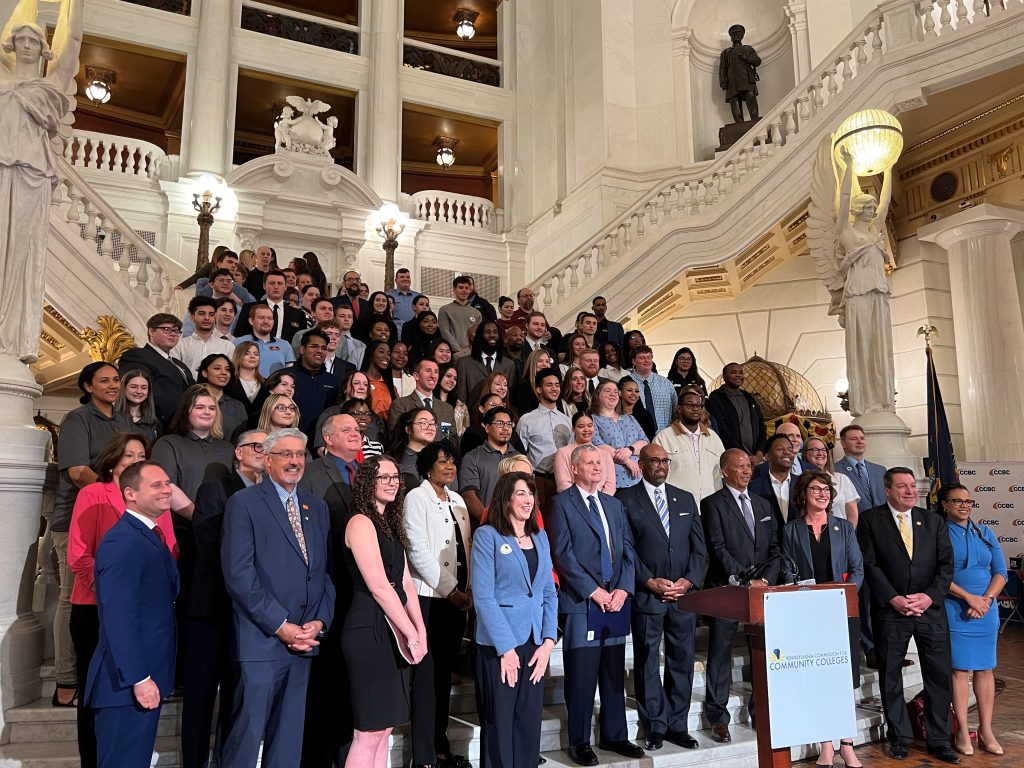 Community college students from across Pennsylvania gathered in the State Capitol on Community College Day, April 24, to call for more state investment in Pennsylvania's 15 community colleges. The event highlighted the community colleges' role in helping Pennsylvania solve its worker shortage crisis, as collectively the colleges are the largest provider of postsecondary education and workforce training in the state.
"Pennsylvania is facing crisis-level workforce shortages, as more nurses are needed to care for patients, more educators are needed in our schools, and more public safety professionals are needed in our communities," said Dr. Tuesday Stanley, president of Westmoreland County Community College and chair of the Pennsylvania Commission for Community Colleges. "Community colleges can help Pennsylvania solve this crisis. We have the programs, the faculty, the infrastructure and the track record. But we are underfunded, which threatens affordability for students, threatens our ability to modernize our facilities and threatens Pennsylvania's economic vitality."
Pennsylvania's 15 community colleges educate 230,000 students in a broad range of academic and workforce training programs, including 87,000 in contracted training alone. Over 70 percent of the colleges programs are aligned to address workforce shortages in high priority occupations (HPOs) such as healthcare, education, manufacturing and public safety. The colleges award 4,500 degrees and certificates in healthcare alone, including 75% of all associate degrees in nursing in the state.
"Community colleges partner with over 2,100 businesses ranging from main street to Amazon," Dr. Stanley said. "These partnerships connect students with employers to address regional and state workforce needs. But for Pennsylvania to truly address its workforce shortages, provide greater opportunities for students, meet employer needs and strengthen its economy, the state needs to invest more in its community colleges."
Pennsylvania Commission for Community Colleges President & CEO Elizabeth A. Bolden said, "The students' visit to the Capitol today is to make it clear why the Commonwealth must increase support for community colleges. More funding will ensure that Pennsylvanians can access affordable, high‐quality postsecondary education and workforce training. Investment in community colleges is an investment in Pennsylvania's economic vitality."
Over the past seven years, community colleges received the second-to-lowest cumulative growth in state appropriations for public education institutions. From fiscal year 2016-17 to 2022-23, community colleges received a cumulative 12.7 percent increase in state funding. Comparatively, career and technical education institutions received a cumulative 62.2 percent increase, Pennsylvania State System of Higher Education institutions received a cumulative 28.2 percent increase, basic education funding and level-up funding cumulatively increased 34 percent, and funding for state-related universities cumulatively increased 8.6 percent.
The community colleges' state budget request for fiscal year 2023-24 includes:
25% Operating Appropriation Increase ($64.1 million) – To continue to keep high-quality postsecondary education and training affordable and aligned with workforce needs – particularly for fields that require hands-on, intensive instruction with industry-standard equipment.
15% Capital Appropriation Increase ($8 million) – To ensure that every Pennsylvania community college has the funding necessary to modernize their education and workforce training facilities.
Funding to strengthen Pennsylvania's healthcare workforce – Pennsylvania is facing a crisis-level shortage of healthcare workers in hospitals, long-term care facilities, rehabilitation centers and physician and dental offices. Policymakers can leverage Pennsylvania's community colleges to address this crisis supported by: $35 million in scholarship assistance for individuals seeking a healthcare credential at a Pennsylvania community college; $10 million in state funding to support activities in collaboration with secondary education to provide students with early opportunities to explore careers in high-demand healthcare fields; and $15 million for a new dual enrollment program to incentivize enrollment in dual-credit offerings aligned with healthcare workforce needs.
Regulatory and statutory relief – The Community College Act and related statutes and regulations governing community colleges impose unnecessary costs and hamper innovation. They must be updated to allow community colleges to serve Pennsylvania more effectively and efficiently. This includes providing flexibility in program design and offerings, and eliminating outdated and unnecessary bureaucratic requirements. Adoption of these changes will allow community colleges to increase the affordability of a postsecondary credential and save taxpayer dollars.
The students were joined by House Speaker Joanna McClinton, Senate Minority Leader Jay Costa, House Community College Caucus Chair Rep. Mary Isaacson, Senate Community College Caucus Chair Sen. Devlin Robinson and House Community College Caucus Chair Rep. Zach Mako.
They were also represented by Emma Hope, a student at Lehigh Carbon Community College and this year's All-Pennsylvania Academic Team New Century Scholar. Being named to the All-Pennsylvania Academic Team recognizes high-achieving community college students who demonstrate academic excellence in the classroom, and leadership and community service outside of the classroom. Hope is among thousands of community college students who will be continuing their postsecondary education at an in-state baccalaureate-granting institution.